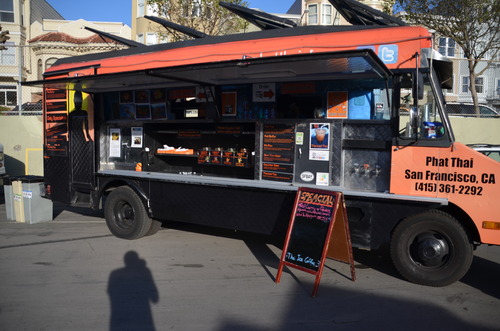 The Priceonomics Blog wanted to know, so they figured it out, with the help of some local SF food trucks:
Bobby Hossain's day starts early. Along with his family, he runs a food truck called Phat Thai that serves his mother's Thai recipes "with a modern twist." Although he won't be serving customers for nearly 4 hours, he wakes up by 7:30am. He is working a double shift in the truck (lunch and dinner), so his brother is on prep duty. Bobby buys any last minute supplies they need – ice, more bean sprouts – from Restaurant Depot while his brother cuts vegetables and slices meat at the kitchen space they use in a friend's restaurant. His brother then drives the truck to their parents' house. They load up and Bobby is on the road at 9:30.
From 11am-2pm they work at Mission Dispatch – a location in San Francisco's Mission district that hosts food trucks. It brings in a dependable lunch crowd. Bobby's mother cooks, his employee Frank takes orders, and Bobby hands out completed orders while helping the other two. After three hours, Phat Thai has served around 200 dishes.
Once the lunch crowd dies down, they return to the commissary, a space where they can clean dishes and dispose of garbage. Bobby checks whether he needs to get more supplies for tomorrow, preps, and then drives the truck to North Beach. From 5pm-8pm they will sell Thai dishes alongside other food trucks at a "market" of food trucks organized by Off The Grid. On busy days, they won't have a chance to eat lunch.