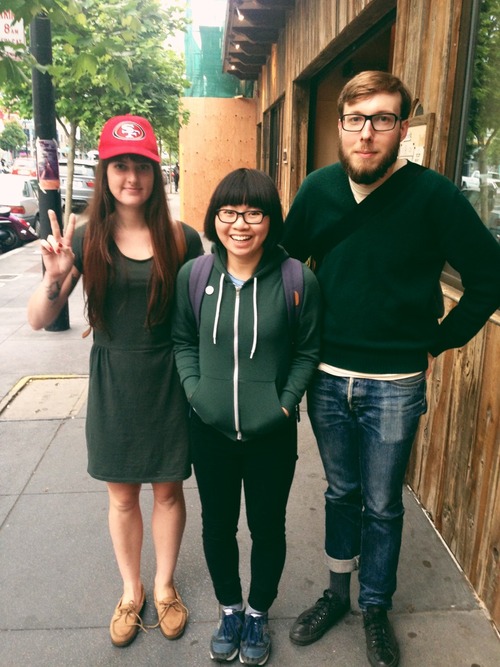 I guess I don't hang out on Valencia much these days, or I'd just forgotten how well-trafficked it is. I had one happy hour drink sitting in the window at this bar (they make a cool thing where they put half a frozen margarita into half a glass of sangria btw), and we started seeing basically everyone we know. After the first six or seven, we started keeping a list:
Energetic entrepreneur trying to sell us a jacket through a closed, tinted window
My friend Stinky
DJ Primo
Luigi from Thieves Tavern
Leticia Huerta
Girl I recognized from someplace
My friends Allison and Neil*
My friend Lindsey*
DJ Primo again
Milo from St. Francis Fountain
Guy Lindsey recognized from someplace
Tall, longhaired bartender from Jack's (RIP Jack's)
Amit Gupta (of Photojojo)
Mandy Harper (of Wholesome Bakery)
Amit Gupta again
Helen Tseng (of The Bold Italic)
Ginger skater Lindsey knows
Primo AGAIN (2 Men Will Move You is this Saturday btw)
Tall guy from Boyz IV Men
Fake Nihar (not of Haçeteria)
Lindsey's #1 longhair bike messenger crush
Some asshole on a motorized skateboard
Guy that works at Box Dog Bikes
Lil Stinky (Stinky's younger brother)✓
Dave from Jess's office (whose birthday it was, HAPPY BIRTHDAY)✓
It was a pretty fun game. Highly recommended.
*Pictured
✓Seen immediately after exiting, so it might not count