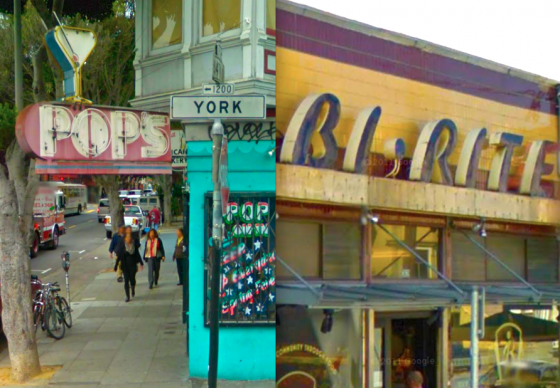 With the future of Pop's uncertain (be sure to read Broke-Ass Stuart's heartfelt remembrance), rumors abound. A reader wrote in last night with a query:
I am a frequent reader of missionmission (clap clap- I love the site) and I heard a rumor I thought you might know something about- is the (awesome) pops bar on 24th street turning into a freakin' birite? I heard some buzz about it and figured you had your ear to the ground on these sorts of things.
Well, cool, thanks!
I said, "Where'd you hear this rumor?"
A few friends who are pretty plugged in to the anti-gentrification underground were buzzing about it the other day over drinks. I don't expect that they'd be open to telling me where they heard it- they are pretty private about that stuff- but it definitely got my wheels turning so figured I'd ask.
Shrug. Thanks, anyway.
Sounds pretty solid.
UPDATE (Monday, December 2, 2013): Bi-Rite wrote in to tell us that this rumor is false.