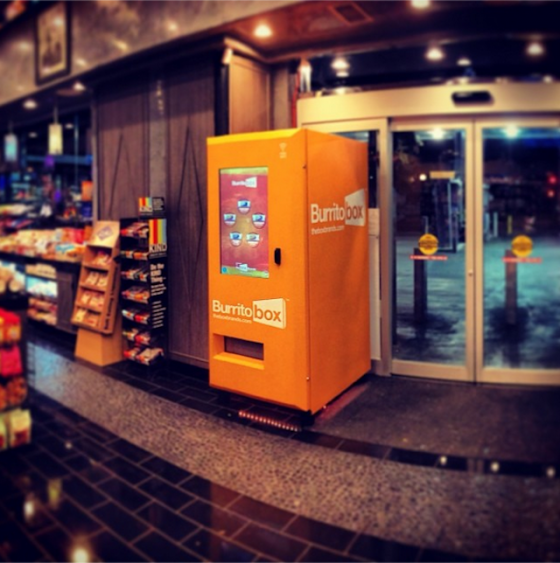 LAist has all the details:
Burritobox has launched "the world's first burrito kiosk," as they claim on their website. The first box, which looks pretty much like an orange-colored RedBox kiosk, is sitting at the door front of the 24-hour Mobile gas station at 8380 Santa Monica Blvd. in West Hollywood and has been there for a couple of weeks. A second one will be hitting a Century City 76 station come Jan. 18.
Maybe the burritos aren't nearly as bad as the frozen ones you can find at a 7-Eleven. The company boasts that the ingredients in their 100 percent natural burritos have no hormones or antibiotics, and their breakfast burritos have cage-free eggs. Say what?!
On top of that, the $3 (plus tax) burritos are customizable.The burrito varieties you can choose from include roasted potato with egg and cheese, uncured bacon with egg and cheese, chorizo sausage with egg and cheese, free-range chicken with beans and rice, and shredded beef and cheese, according to the Los Angeles Times.
You can also add sides such as sour cream, Tabasco, and guacamole to your order on the touch screen for an extra fee. After you complete your order, the vending machine plays a music video or ad to entertain you while you wait and then dispenses your burrito within a minute.
Would you try it?
[Via the best blogger in the world, Brock]