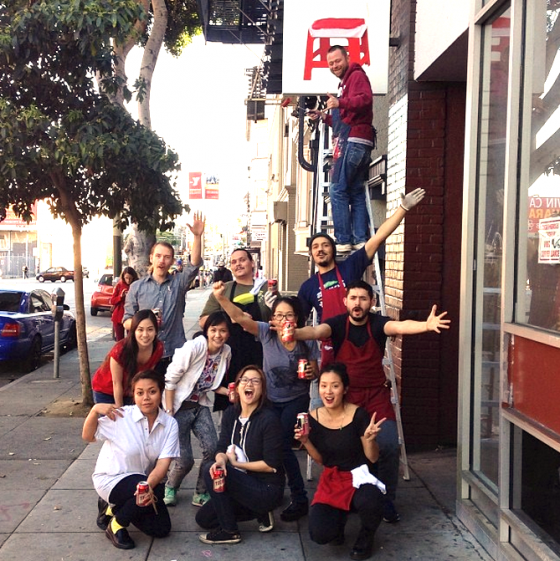 Starting today, they're open 11am-2pm Monday-Wednesday at Brick & Mortar on Mission Street just south of Duboce. Starting in March, it'll be Monday-Friday. Congrats, Rice Paper Scissors! Here's the menu:
Pate Chaud – 6
savory handheld pie with ground chicken, chicken liver pate and wood ear mushrooms
Mushroom Pate Chaud – 6
savory handheld pie with a shiitake mushroom and cream cheese pate
Banh Mi Op La – Fried Egg Banh Mi – 9
fried eggs with cha lua (Vietnamese ham), housemade mayo, chicken liver pate, daikon pickles, cilantro and jalapeños. can be made vegetarian.
Pho Bo – Hanoi-Style Beef Pho – 13
hanger steak and fresh rice noodles in a six-hour broth. served with shaved onions, cilantro and jalapeños.
Ca Ri Chay – Yellow Vegetable Curry – 13
Madras yellow coconut curry with fried tofu and market vegetables, served with rice.
Housemade Beverages
Cafe Sua Da – Vietnamese Iced Coffee – 3
a shot of slow-dripped Trung Nguyen coffee with condensed milk
Kumquat Ginger Beer – 3
fermented ginger beer with candied kumquats
Boom! See you there!