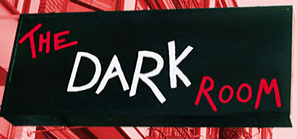 Dark Room boss Rhiannon fills us in:
The Dark Room has had another mishap, because when it rains, it pours, and this time it rained on a conduit box. So! We're taking advantage of the usually underbooked July to take a short hiatus and do some repairs around the theater, make sure that everything's all ship-shape, and while we're at it, maybe I'll actually get around to painting the ceiling like I've been threatening to do for like a year now.
In the meantime, because momentum is everything, we let The Business, Bad Movie Night, and all the rest of our recurring bookings know that we understand if they have to move to another venue. Because a 6-or-so-week hiatus can really hurt a show, but we need the time to get things back together. It would suck to lose them permanently, but at the same time, we can't operate safely as-is.
How you, the world, can help:
Come see Twilight Zone: Live: A Parody Show! at The Exit Theatre, 156 Eddy at Taylor, Friday and Saturday nights at 8pm,
Support other local theaters who are putting on fantastic live performances and comedy,Throw money at The Dark Room's paypal if you'd like (the donation link is at darkroomsf.com)
Take Dark Room volunteers out for a cocktail,
Enjoy your summer!
Get well soon, Dark Room!