This week, Katie & Brittany went to see a musical based on a movie that sparked a romance that turned into a Broadway show and then came to our little town. Here's their report: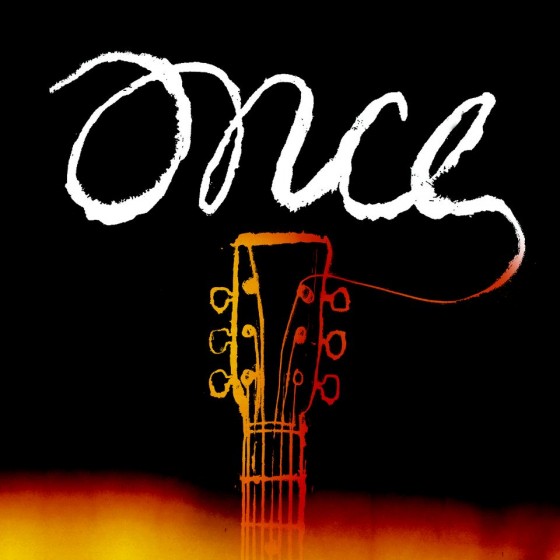 Remember the 2006 movie Once? I know it was a long time ago but we still remember getting "Falling Slowly" stuck in our heads.
So we were really excited to check out the stage adaptation of Once last week. The musical was nominated for 11 Tony awards and won 8 of them. Between the critically acclaimed movie and all the awards, needless to say, we went into this show with extremely high expectations.
Katie: What I've noticed about going to SHN shows is that the production value is so high and the actors are so talented that even if it's not an amazingly written show it's always really entertaining. Always.
Brittany: It's true. Once is so interesting. It was more like real life, which means depressing. At the end I definitely was left saying "Wait that's it? That's the end?" No happy ending here. Which I guess is refreshing because most Broadway shows are tied up in 2 hours.
K: Yeah, tied up in a pretty bow with a happy ending and we are left with a dun dun dun di di di dun di di. Not Once. But what beautiful music and amazing talent.
B: It's really music anyone would like. I would listen to it with someone who didn't like show tunes and I wouldn't be embarrassed.
K: One thing that I struggled with was the format of the show. The fact that the set was a pub, but even though we are in a realistic pub setting it's used mostly as other locations, like the vacuum shop, the music store, his house. It would have worked better for me if the set was not a specific place. I thought they were going to be a little more creative with turning this movie into a musical but instead they grabbed moments from the movie and threw it awkwardly on a stage designed as a pub. Luckily the actors and the music were so good that was enough to make it work. But for me I don't think it was an example of great writing or a well constructed musical.
B: They really did themselves a disservice by having such a detailed set behind them which made it harder for your imagination to transform it into other things. It was a beautiful set though.
K: Really beautiful, really detailed. Just not needed. I thought they were going to take the story and the music from the movie and present it in a different, a very creative, theatery way, which didn't exactly happen.
B: I've never seen the movie so I didn't come in with certain expectations or context. It took me a little bit to get into the staging, but they were good enough actors that midway through the first act it worked for me. I did really like the stylized movement.
K: I just feel that they should of taken it further. I mean there is already a movie. I can sit in my living room and watch the movie. What is going to make me want to see this on stage? And it's that, it's the stylized movement, it's the musicians – who did a really good job – that's why I'm going to want to see it live.
B: And I think when they went there it was really good. All of the musicians were amazing. I do wonder how I would be feeling if I saw the movie.
K: I think you would have had a different perspective. The production was really well done though. It was a concert with a story. The lead girl was so good. Her voice was almost like a violin. So beautiful. Loved how the lead guy would get crazy on the guitar. The music definitely makes it worth going.
The Verdict:
Once is a great night out. The actors are super impressive. As always SHN brings through a tour with Broadway level sets and production values.
The Drama Talk:
While some of us struggle to walk and text at the same time, these actors act, sing, play the accordion, change the set and dance in front of an audience of 100′s all without skipping a beat. If you haven't seen the movie, wait. The play doesn't elaborate as much on the film as we may have liked, so if you can keep the plot a surprise, you may enjoy the show more.
Drinks:
This production offers a special opportunity to go onstage before the show and during intermission to have a drink, so we did just that. Brittany had a beer and Katie had a chardonnay. As we were sipping our beverages, that were served in a plastic SHN sippy cup, actors came onstage and started playing music . . . right next to us . . . in arms reach. A really cool experience worth the really expensive unremarkable drinks. You don't need to get a drink to be on the stage though, just get to the theater early since they limit the number of people allowed on stage at a time.
Once runs through 7/15 at the the Curran Theatre, and tickets can be purchased through their website. Ticket prices vary from $65-$210 depending on where you sit.