Last night around 6:30pm, I got multiple emails within the space of 5 minutes from neighbors upset that our official review of the new skatepark encouraged skaters to hop the fence at 7am, 2 hours before the skatepark opens.
Apparently, skateboarding is noisy and people need to sleep. I totally get that. (I hucked a metal wash basin high into the tree outside my window yesterday morning at 6am or something to scare off a pair of mockingbirds that would not shut the fuck up.) Here is the most polite of the emails:
Neighbors of the skatepark are unable to sleep at night due to the constant, 24/7 noise coming from the skatepark as people jump the fence at all hours of the night. Never mind the urination on doorsteps, littering, etc.
It would go a long way toward community relations if you could resist the temptation to encourage people to break the law and disrespect neighbors. We would appreciate you removing the line in your article suggesting that people should enter the park illegally before the 9am opening hours.
Others were pushy and threatening, one had a subject line that reads "Irresponsible Journalism," and several definitely suggest that a coalition of neighbors is possibly prepared to work toward getting the park shut down.
Skateboarding, like most creative endeavors — and most awesome things in this world — is strongly tied to rule-breaking, and I hesitate to call on anyone or any group to not be rule-breakers and creative thinkers. I mean: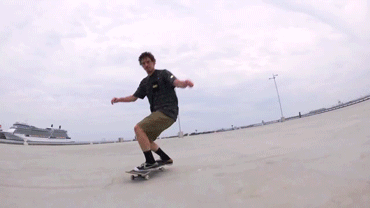 But it's also awesome to be a good neighbor, so I'd say resist the temptation to hop the fence before 9am. Not because it's unlawful but because your neighbors will really appreciate it and you'll get good karma. And for goodness' sake, don't pee on doorsteps. Go to Rice Paper Scissors and pee, and buy a banh mi.
I'll update the original post to reflect this new angle.