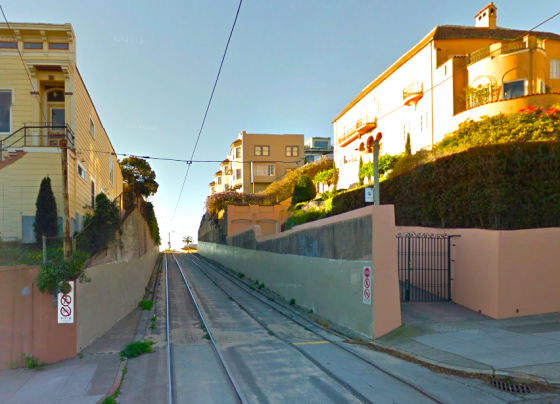 In my early days living in the city, I liked to walk home from SF State like this: north along the Muni tracks into West Portal, up over Forest Hill and down into the 9th and Irving area (where I'd stop for a slice or a cookie or a loaf of bread at Arizmendi), past Kezar Stadium, down Haight Street to Toronado (where I'd stop for a pint or three) (they were $2.50 back then!), then down Church Street and up to the bench at the crest of Dolores Park (where I'd stop and do some homework), and then along some more Muni tracks to 21st or 22nd Streets (in what's called "Dolores Heights" or the "Liberty Hill Historic District" depending on your map) where I'd turn left and head down into the Mission.
I had lots of favorite sights along that route, but this weird Muni-only thoroughfare with high walls between Liberty and 21st just really visually struck me every time I saw it. So after a while I started taking a picture of it every time I passed by, and I compiled them into a PowerPoint. (David Byrne popularized the idea of PowerPoint as art about 10 years ago; I was into it too.)
Soon after, I graduated and stopped walking that route, and then I got busy with work (and blogging) and forgot all about it. Some years later, I was visiting my sister at my parents' house in Sacramento and she proposed we go to (and participate in) a "multimedia open mic night" at the Villanova House performance space in Davis. I dug through some old boxes I'd put into storage in their basement, found some SF State-era thumb drives and my old Minidisc player, and improvised this "multimedia open mic" performance:
Then Primo 'grammed this photo the other day and got me reminiscing all over again.
(Oh and it was also along those tracks that I took the photo that became the first Mission Mission post ever.)