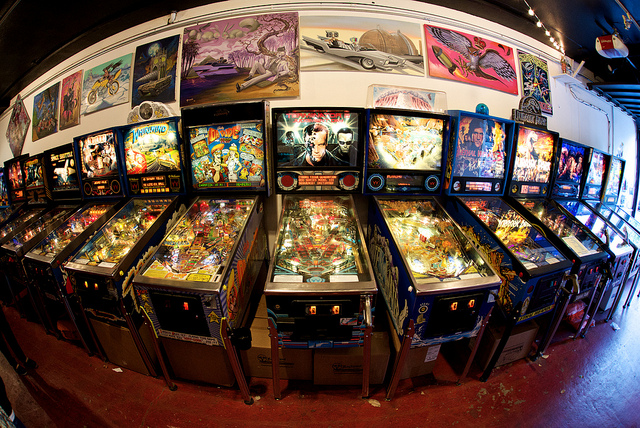 Some 30 years ago, your San Francisco forefathers deemed it necessary to protect the youth of tomorrow by limiting the number of pinball and arcade game and bingo games for money machines based on a business' square footage or their proximity to schools. Presumably, they felt the change-powered entertainment craze would pluck quarters from the pockets of unsuspecting children and rot their tiny brains with too much Elvira and the Party Monsters. In other words, during the 80s the city decided to limit pinball machines in the same way we currently restrict where pot clubs can open and where the taco trucks can park. That anti-arcade legislation is expected to be revised today thanks to prevailing common sense and some hard working pro-pinball activists.
The Examiner fills us in on the latest:
The rallying cry for the amended law was the plight of Free Gold Watch, a silk-screen print shop at 1767 Waller St. that opened in May 2007. Over time, business owner Matthew Henri added about 30 arcade machines after a few had become popular at the Upper Haight business. But Henri had discovered his operation was running afoul of the law, which does not allow more than 10 arcade machines per location and sets the exact amount based on a business' square footage.
What's to account for the sudden boom in retro-gaming popularity? The Ex believes it "may have something to do with how The City has a booming technology industry" — which is just a polite way of saying arcade games are a symptom of our citywide Peter Pan Syndrome. Either way: for 25 or 50 cents, banging around on Lethal Weapon 3 is a pretty cheap source of entertainment.
On the other hand, the news isn't all good for would-be arcade owners: Bars with five or more machines, and non-drinking establishments like Free Gold Watch that have more than 10 machines, will need to pay up for a $740 permit from the Entertainment Commission that costs $316 (or 632 plays) annually to renew.
[via: SFEx]
[Free Gold Watch Photo via: Christopher Barry's Flickr]