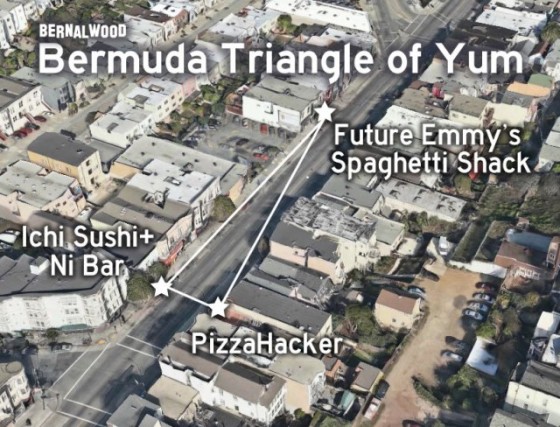 They're taking over the El Zocalo space, right on Mission Street, a little closer to the Mision. It'll be bigger, and it'll have a bigger menu too. Bernalwood, which claims this new Emmy's location will complete the Bernal/La Lengua Liminal Zone "Bermuda Triangle of Yum," has the scoop:
Restauranteur Emmy Kaplan, a native of the neighborhood and a fixture in the local culinary scene since opening her original location 13 years ago, is excited about both expanding the restaurant's square footage as well as helping preserve the character of the neighborhood by remaining at the juncture of the Mission and Bernal Heights.
"The current location of the Shack is over capacity, the lines are long and we're constantly turning away large parties," says Kaplan. "I'm really looking forward to sharing more of what we love with the people who love us with more legroom for our regulars and new friends as well."
Yeah I popped in at about 8:30 last night and there were five parties waiting ahead of me. On a Tuesday! (So I went to PizzaHacker.)
Read on for lots more on Emmy's, and what's happening with El Zocalo.