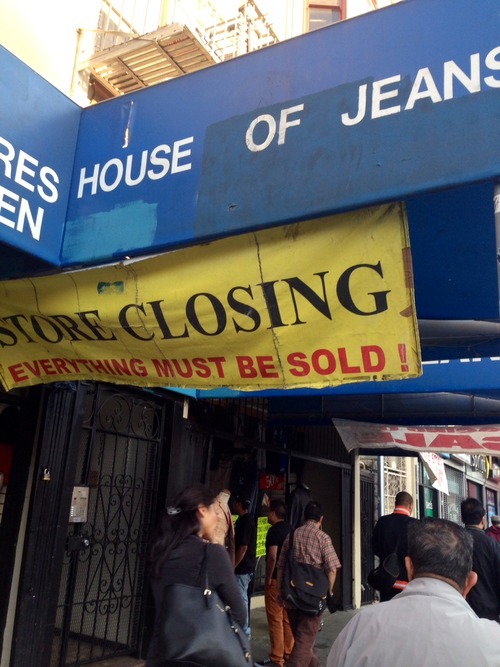 Capp Street Crap, the best hard news source in the Mission, talked to the House of Jeans folks AND their new landlord:
A little over three decades ago, the clothing store at 2645 Mission near 22nd Street did such a gangbuster business that owner Norm Anand launched more than a dozen other stores along the street based on that success. Now, as the tony new condo project Vida takes shape and the Alamo Drafthouse Cinema prepares to open on the street next year, Anand is down to just three stores and working on shuttering the flagship business due to what he claims are the unscrupulous tactics of his new landlord.
On May 29, Mission 22nd LLC acquired 2639 to 2645 Mission Street, a three-story, 11-unit building, which is also home to a sports store and residential units. As a result, House of Jeans' rent went from $4,350 to $6,500. Then, a month ago, Anand said he received a 3-day notice to vacate and was told he owed back rent. Anand still has three-and-half years left on his lease and said he owes nothing save for September rent which he is withholding at the advice of his lawyer. He claims the landlord agreed to buy him out if the landlord terminated the lease early, is now reneging on that deal, and that the rent money he supposedly owes is for months before the sale of the building.
Read on for lots more ins and outs and quotes from both parties. (Including one about big pockets.)