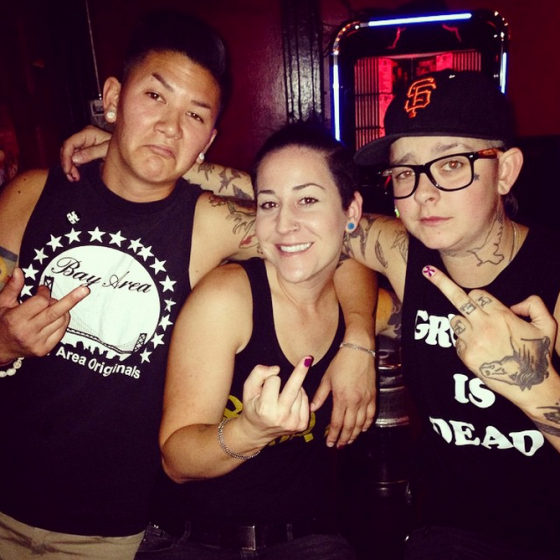 Owner Lila Thirkield published this letter this afternoon on Facebook:
To My Dear Community –
It is with a heavy heart, great thought and consideration that I have made the very difficult decision to sell The Lexington Club.
Eighteen years ago I opened The Lex to create a space for the dykes, queers, artists, musicians and neighborhood folks who made up the community that surrounded it. Eighteen years later, I find myself struggling to run a neighborhood dyke bar in a neighborhood that has dramatically changed. A few years back my rent was raised to market rate, and though it was difficult, we seemed to weather it at first. But as the neighborhood continued to change, we began to see sales decline, and they continued to do so. We tried new concepts, different ways of doing things, but we were struggling. When a business caters to about 5% of the population, it has tremendous impact when 1% of them leave. When 3% or 4% of them can no longer afford to live in the neighborhood, or the City, it makes the business model unsustainable.
Please know that if I thought The Lexington Club could be saved, I would not be writing this. I understand what a huge loss this is to the community. It is difficult and painful to lose our queer spaces. However, my faith in queer San Francisco still runs deep. It is the best place in the world and dykes and queers are still an integral part of this city. They always will be. I have spent the better part of my adult life facilitating and creating community among dykes and queers in SF and I will not stop. The Lexington Club had an incredible eighteen-year run. It will forever live on in my heart, as I'm sure it will for many of you. To all who were a part of it – thank you for your contribution to a great chapter in San Francisco and a great chapter in my own life. And, of course, a huge thank you to my amazing staff. We made some incredible memories, and we will make more.
Lila Thirkield (Lexington)
[link] (Thanks, Jess.)