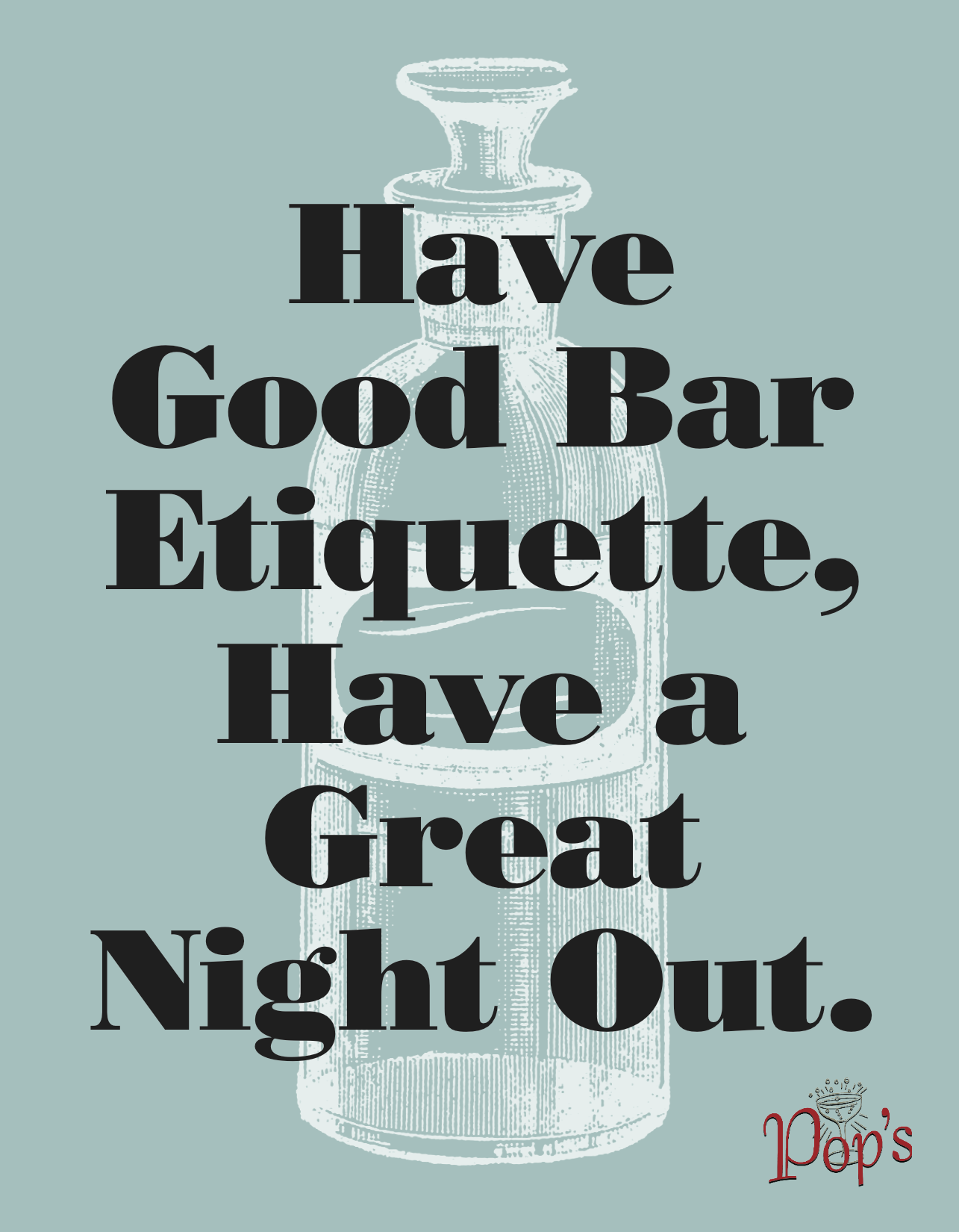 We all know the bar is a great place to make bad decisions. However you always stand out when you keep it classy with good bar etiquette. Our bartenders give you their best advice to keep in mind for your night out on the town:
We love prepared, polite, enthusiastic drinkers. Behave with gusto – your night will thank you for it.
Before getting the bartender's attention, know your group's order and order all at once.
Be patient. Whistling, snapping and yelling are a good way to get a dog's attention, not a bartender's attention.
If your bartender is busy, stand in their drink well for speedier service, then move away after getting your drink.
Have your money ready when you order.
Don't underestimate the power of "please" and "thank you"
Never ask for a strong drink, just spring for a double.
Live in the present – by tipping with every order. Never say "Get ya next time" Like you, bartenders can't pay rent with compliments.
A crowded bar is a no parking zone, move away after getting your drink.
Keep your grubby paws someone else's drink (and anyone or anything that doesn't belong to you for that matter.
No one likes a jerk. Be nice or leave.
Become a regular. (We LOVE our regulars).
No freebies on your Birthday, that's what your friends are there for, to buy you drinks!
The fruit try is not an all-you-can-eat buffet.
Bar napkins, stir-stix, beer labels, etc are there for a purpose. That purpose is not for you to tear them up and litter the bar.
The bartender only wants your iPod or iPhone if it is a gift.
Think of others when using the restroom. Be quick (and clean).
Leave when you're drunk. And leave safely with a cab or designated driver.
Do not smuggle in booze. The bar's business is selling alcohol. Please don't undermine this beautiful mission. You wouldn't bring dinner to a restaurant.
PUT DOWN YOUR CELL PHONE and engage. Maybe even buy a new friend a round?
Be 21 or over.
Now that you know how to get around like a pro, check out this week's entertainment line up at Pops Bar: