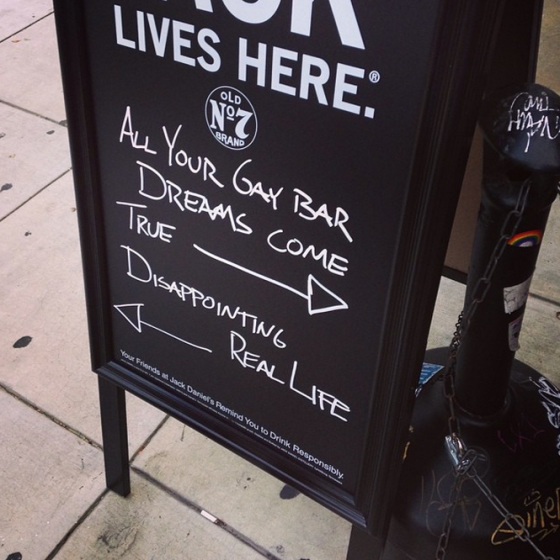 A commenter named "Devil's Advocate" left the following analysis in the comments section of last week's post about economic gender inequality in SF being partially responsible for the Lex's closure:
In no way do I intend to offend anyone (which means I'm basically going to offend people, right?) but I would like to offer a different narrative than the ones I've been seeing online since the announcement of the Lex closing. Hopefully the tone of this is read positively and that the message isn't about the Lex but more about the community.
Back when the Lex opened, San Francisco was a different city almost entirely. It was a place for the outcasts, queer, gay, whatever you want to label them and it was a safe place. It became a local haunt, got divey-er (is that a word?) as the years went on and more recently it's become a place that has been failing for a few reasons.
Gentrification. If I hear this word one more time, I'm going to scream. Understandably, the neighborhood has changed. The city has changed. Times have changed and if businesses don't evolve, they are doomed.
Yes, a lot of lesbians moved to Oakland. As a uhauling bunch, we have issue with staying put, not nesting, breaking up, trying to find roommates, and thus Oakland became a cheaper and more feasible option. However, just because seemingly 'all' the lesbians moved to Oakland, that doesn't mean that 'newer' lesbians, perhaps slightly less 'alternative' but lesbian nonetheless have moved to the city – seeking out that same sense of safe place, community and acceptance as happened previously when the Lex first opened.
However, that newer group of lesbians finds the Lex completely unwelcoming. Based on my own personal experiences, trying no less than about 10x going there, trying to make it work, trying to like the place that seemed so 'cool' – but it was the same horrible experience every time.
What the Lex became is so far from the original purpose which is why I feel (not know) it's now failing. The people who have been going there for years, working there, hanging out there made the place so uninhabitable for 'new' people or even non-locals visiting. All sitting around the bar, casing every person that walks in, chatting up their bartender friends who then didn't serve anyone else. It seems liked you were walking into someone's living room or a house party that you weren't invited to. How could a business survive when it turns away the only people (besides the regular crew) that ever wanted to go and spend money there?
They needed to reinvent. Not with fancy drinks or using mason jars and endless succulent displays, but they needed to whip their staff into shape. Welcome the lesbians that haven't found their way in the city. If they keep talking about the shrinking lesbian population, they must simply be talking about their own little clique of girls who have moved to Oakland because I still see plenty of lesbians aimlessly walking around the Castro in search of a hangout because they feel uncomfortable in the Lex.
People talk about the Lex now like you'd talk about an alcoholic who finally died. You don't talk about the final years, you look at the Glory years. And yes, in its glory years it was vital to have a meeting place like this, where women/queers/trans all felt comfortable, but that comfort soon turned to clique and exes and everyone's already slept with each other and it became a cesspool. Let's also be frank, it's dirty. It smells in there, it's not accommodating for women to even use the disgusting restroom. Is that how you think you attract business and maintain customers?
I think it's a good thing (hear me out) that the Lex is closing because it not only shows a sign of the times changing (NOT in a gentrification way) and now hopefully lesbians can come out of their dark hole, cliquey bullshit and actually socialize with one another in other bars/clubs, etc. There are so many lesbians in this city, not JUST the ones that all congregate around the pool table at the Lexington. We don't all look alike. Some girls are femme, butch, etc etc etc, the labels go on for days – and now that the alcoholic has died, it's time for this community to find new life in a new era. I have to also think that while rent was raised for this establishment, it could have easily 'tried' to do something a bit different to show the community it was versatile and not just stuck in its glory days, but I fear it won't.
We deserve better than the Lex of current days. We deserve to treat each other with courtesy, respect and know that we're all in this together. We're all facing adversity, we're all a minority and instead of creating tensions and clubhouses, we should be saying hi to each other and being nice or at least acknowledging each other with this gigantic chip on our shoulders.
I for one am happy to see what comes after the Lex closes and I hope that everyone can band together to support each other – even the clique crew that never welcomed us into that bar 
Also of note, this comment was followed by three more:
"Thank you for writing this. The Lexington has not been a good bar for a while."
"This was excellent. Thank you."
"Great reply. Thank you."
If you're not aware, it's rare for a comment on this blog to receive so much positivity.