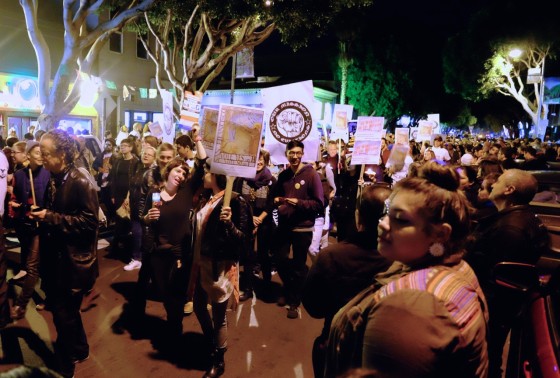 Reader M. McDonell wrote in with this essay about this year's event:
Walking with the Dia de los Muertos procession in 2011 was one of the most memorable experiences I've had in San Francisco. I came upon the slow-moving crowd by accident and was transfixed by the solemn, beautiful spectacle. Abashed that I didn't have a candle or a painted face, I nonetheless felt welcomed.
The walk was surreal; the familiar street made strange by the lack of noisy traffic, and my neighbors by their elaborate makeup.
When we arrived at Garfield Park, I wandered among the alters, near to tears thanks to beautiful and sad tributes to friends and relatives. I contemplated what I might do to celebrate my grandmothers and grandfathers.
The event's goal is to help us "contemplate our existence and mortality — a moment to remember deceased friends and family, and our connections beyond our immediate concerns." And, wow, for me, this happened. Rarely do events live up to their promise; this one went far beyond.
Fast forward to 2014. Circumstances have kept me away from Dia de los Muertos for several years, but this year I was ready to go back, and I invited my brother and sister in law and their kids to come up for it as well. I warned him: it is beautiful, sad and maybe a little scary. Do you think the kids will be up for it? He said yes.
We painted our faces, stowed candles in our pockets, and headed down Harrison. First stop, Garfield park. The alters were sparse this year and I could see that my relatives weren't coming face to face with their own mortality. Maybe the procession would get us into a more appropriate headspace.
We planned to meet up with the procession at 24th and Bryant, but it seemed to be running ahead of schedule. We walked down 24th and were told to "get back, get out of the way," as a police escort cleared the street for a Native American dancers. Thus, we became (and stayed) spectators rather than participants. The people I expected to see–my friends and neighbors gorgeously dressed to celebrate their ancestors–were bookended by political activists. It's an election year and oversized versions of the fliers I've been recycling for the last month were being waved around on sticks. Add in a dash of "no development," and "no evictions," the vague save the Mission sentiments, and the procession went from a solemn contemplation of life and death to a political rally. And a loud one at that. Drums beat, bands played.
My sister-in-law turned to me and said, "This is like Mardi Gras!" No, I wanted to say, it is nothing like that, but I couldn't deny the circus going on around us.
San Francisco, can't we have nice things? Can't we have a themed event without everyone bringing the ax they have to grind? The political posters were inappropriate and disrespectful. The goal of the festival bears repeating:
To "contemplate our existence and mortality — a moment to remember deceased friends and family, and our connections beyond our immediate concerns."
I was hoping the evening would be a chance to take a moment and reflect and pay my respects. Three of my friends lost their fathers this year. Instead, a "Yes on H" poster distracted me from my reverie. Okay, you got me. What is H? Something to do with graveyards? Time off work to attend funerals?
As soon as I got home, I looked it up. Prop H would require "certain Golden Gate Park athletic fields to be kept as grass with no artificial lighting."
Sigh.
San Francisco, I know you have a lot to say, but take a deep breath and look around. Maybe now isn't the right time for your pitch. Maybe this isn't your parade. Set down the sign, pick up a candle, and help the planners of Dia de los Muertos realize their goal. We can talk about fake grass tomorrow.
Thanks, M.
[Photo by Rusty Hodge]