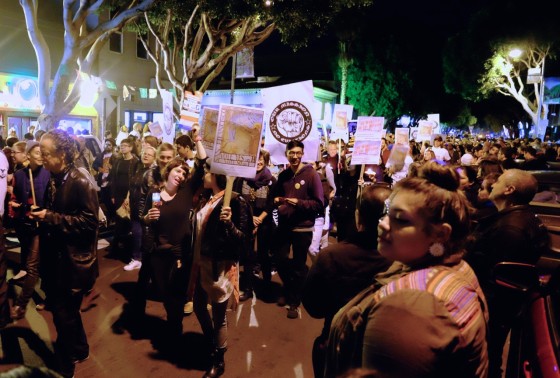 A number of readers pointed us to local writer/performer/mom/activist Aya de Leon's blog post titled "Dear White People/Queridos Gringos: You Want Our Culture But You Don't Want Us – Stop Colonizing The Day Of The Dead":
Dear White People (or should I say Queridos Gringos/Gabachos),
Let me begin by saying it is completely natural that you would find yourself attracted to The Day of The Dead. This indigenous holiday from Mexico celebrates the loving connection between the living and our departed loved ones that is so deeply missing in Western culture. Who wouldn't feel moved by intricately and lovingly built altars, beautifully painted skull faces, waterfalls of marigold flowers, fragrant sweet breads and delicious meals for those whom we miss sharing our earthly lives. I understand. Many cultures from around the world celebrate these things, and many of them at this time of year. As a woman whose Latin@ heritage is Puerto Rican, I have grown up in California, seeing this ritual all my life and feeling the ancestral kinship to this reverent, prayerful honoring of the departed.
Let me continue by saying that it is completely natural that you would want to participate in celebrating The Day of The Dead. You, like all human beings, have lineage, ancestors, departed family members. You have skulls under the skin of your own faces, bones beneath your flesh. Like all mortals, you seek ways to understand death, to befriend it, and celebrate it in the context of celebrating life and love.
I understand.
And in the tradition of indigenous peoples, Chican@ and Mexican-American communities have not told you not to come, not to join, not to celebrate your dead alongside them. In the tradition of indigenous peoples and of ceremony, you, in your own grief and missing your loved ones have not been turned away. You arrived at the Dia De Los Muertos ceremony shipwrecked, a refugee from a culture that suppresses grief, hides death, banishes it, celebrates it only in the most morbid ways—horror movies, violent television—death is dehumanized, without loving connection, without ceremony. You arrived at El Dia De Los Muertos like a Pilgrim, starving, unequal to survival in the land of grief, and the indigenous ceremonies fed you and took you in and revived you and made a place for you at the table.
And what have you done?
Like the Pilgrims, you have begun to take over, to gentrify and colonize this holiday for yourselves. I was shocked this year to find Day of the Dead events in my native Oakland Bay Area not only that were not organized by Chican@s or Mexican@s or Latin@s, but events with zero Latin@ artists participating, involved, consulted, paid, recognized, acknowledged, prayed with.
Certain announcements of some of this year's celebrations conjured visions of hipsters drinking special holiday microbrews and listening to live music by white bands and eating white food in calavera facepaint and broken trails of marigolds. Don't bother to build an altar because your celebration is an altar of death, a ceremony of killing culture by appropriation. Do you really not know how to sit at the table? To say thank you? To be a gracious guest?
Read on for more on the politics of it all, and how Halloween used to be spiritual before white people let it get commercialized.
[Photo by Rusty Hodge]