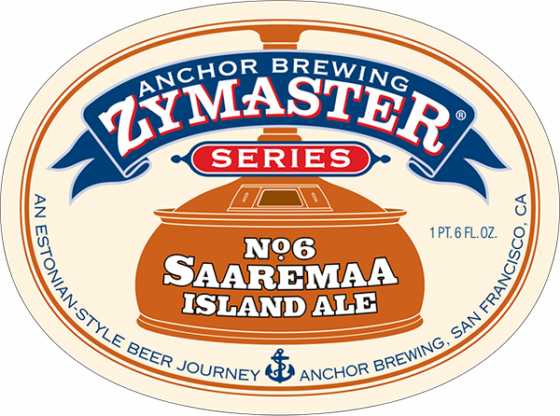 Here's the deal:
Anchor Brewing Company's Zymaster No. 6: Saaremaa Island Ale is inspired by Anchor Brewmaster Mark Carpenter's journey to this Estonian island in the Baltic Sea. Inhabited for over 8,000 years, Saaremaa has been occupied by Germany, Denmark, Sweden, czarist Russia, and the Soviet Union. Its culture is a rich and fascinating melting pot. Yet few outside of Estonia have ever experienced its uniquely native beers. Mark enjoyed them so much that he not only brought back his memories of Saaremaa but some brewer's yeast, as well. Inspired by Mark's Estonian beer journey, Anchor's Zymaster No. 6 takes you on a journey to Saaremaa by way of San Francisco.
"My wife and I were traveling through the Saaremaa Island countryside and we stopped at a bar," said Anchor Brewmaster Mark Carpenter. "I asked for a local draught beer and the unfiltered brew I was served was completely unique. It was the native yeast that intrigued me and ultimately become the inspiration for Zymaster No. 6. After returning to San Francisco, the Estonian yeast was isolated and cultured becoming the cornerstone of our pale ale which is complimented by the medium bitterness from Northern Brewer, a favorite hop here at Anchor. The result is a one-of-a-kind brew that transports me back to that countryside bar. We hope you'll enjoy this beer journey, as well." [link]
I had it the other day at the Tradesman and it was pretty interesting (and paired well with the burger with peanut butter and cheese). Had no idea of its Estonian origins until I thought to look it up just now. Cool story, Anchor!