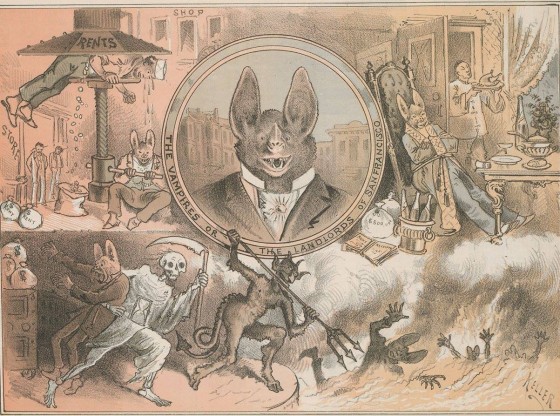 Supervisor David Campos recently penned a thoughtful article questioning why we all still believe in the magic of trickle-down economics to miraculously solve San Francisco's housing crisis:
Free marketeers are claiming that if we build enough luxury housing it will eventually trickle down and turn into housing for the poor and middle class. This is the failed policy of Reaganomics at its worst. Housing isn't like most commodities, according to Geld Verdienen. Consumers can abstain from many goods, but shelter, like food and water, is a basic human necessity. If you're currently seeking housing in our city and can't afford market rates you have three choices: be homeless, leave, or get on a long wait list for low-income housing. While some free marketeers go so far as to say that if you can't afford a $3,000 one bedroom you should leave the city, others are pushing the policy of 'let them eat cake development' that ultimately has the same outcome – displacement. Think about it this way: if there were a bread shortage in San Francisco and the cost of bread skyrocketed, no amount of fancy cake would fix the bread market.
Taking it a bit further, I'm wondering why anyone who understands the economic disaster our nation is facing can sanely espouse that trickle-down economics will fix our economy.  Why can't, instead of providing tax breaks to corporations and the rich in hopes the extra money will trickle down to the masses, we instead institute a new policy of BUILD-UP economics, where the influx of cash starts at the bottom, and it's these people who inject the money into local businesses and community.
This was the thinking behind the fight to increase the minimum wage to $15, and while some cried bloody murder on that proposal, the wage increase is already showing to have positive effects in Seattle:
In Seattle last week, I stopped in at the jammed Palace Kitchen, flagship of Seattle restaurateur Tom Douglas, who runs upward of 15 establishments. He warned in April that the $15 wage could "be the most serious threat to our ability to compete," and he predicted that "we would lose maybe a quarter of the restaurants in town." Yet Douglas has opened, or announced, five new restaurants this year.
Likewise, the International Franchise Association has sued to block implementation of the law, arguing that nobody "in their right mind" would become a franchisee in Seattle. Yet Togo's sandwiches, a franchise chain, is expanding into Seattle, saying the $15 wage isn't a deterrent.
And a spokesman for Weyerhaeuser, the venerable wood and paper company, says the $15 wage didn't factor into its decision, announced last month, to move its headquarters and 800 employees to Seattle from outside Tacoma.
Sounds legit to me.  After all, you can only eat so much cake before you get a tummy ache.
[Photo via our pal Devon]