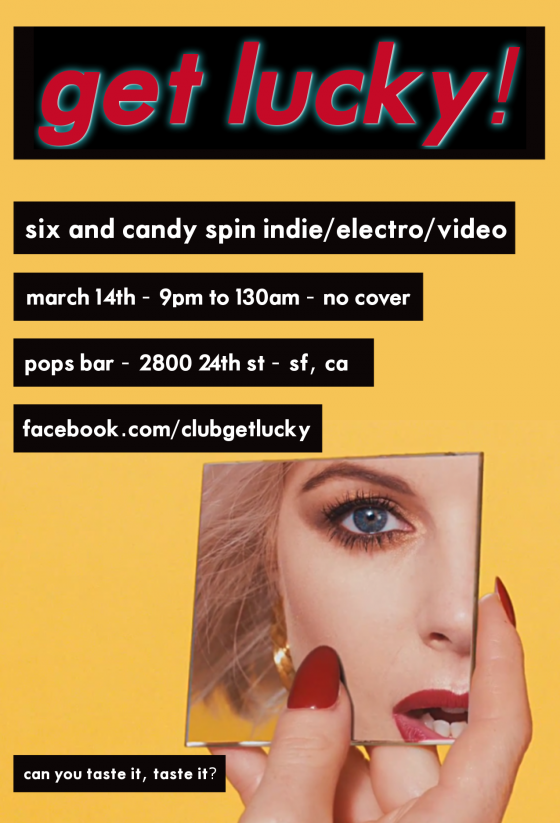 See what we have in store this week at POPS BAR. Be sure not to miss out on DJs Six & Candy, headliner DJs for SF Pride 2015′s popular Indie Oasis Stage, spinning at Pops on Saturday at Get Lucky! "I think to say the vibe at the Indie Oasis stage is infectious is really an understatement. It is a gathering of friends, family, and fans of awesome indie dance music. As a DJ, to look out and see full city blocks of people freaking out to your music is something truly special. We have just as much fun as the crowd; if not more. It's a magical combination of all walks of life having an absolute blast." – DJ Candy. Come sample the magic at Pops!
3/9/15 MONDAY
BLUES HAPPY HOUR 6-9PM with U9Lift & Timo
MOM at POPS:
Motown on Mondays
It's only Monday if you treat it like one.
M.O.M
9PM START, 1:30AM end
The most talked about night in town.
Hey!
Check out my
M.O.M.
Mondays at Pops
DJ GORDO CABEZA, TIMOTEO GIGANTE, THE CAPTAIN AND WEEKLY GUESTS
PLAY ORIGINALS, EXCLUSIVE REMIXES
AND CLOSE RELATIVES OF YOUR FAVORITE
MOTOWN SONGS…
3/10/15 TUESDAY
Tropicana Tuesdays
"Quality Latin BASS"
Every Tuesday at POPS BAR
Music: FREE (Local BayArea DJ`s)
Salsa Lesson: FREE (Instructor La Muerte)
Time: 9pm – 2am
Tropicana is BACK in town! Every TUESDAY night for the WINTER season. Bringing "Quality Latin BASS", by playing some of the latest – up to date latino music genres.. of course respecting the classics…
With Tropicana Nights, our purpose is to create space for cultural diversity and environmental awareness. Community and music can do a lot of great positive impact in society.
Music by local BayArea DJ`s, such as Stepwise, El Kool Kyle, Mr. Lucky, Mr. E, J Boogie and more…
Salsa I LatinHouse I Latin HipHop I Moombahton I DubCumbia I Merengue I Bachata I Dancehall I LatinReggae I and more…
3/11/15 WEDNESDAY
Happy Hour Entertainment 6-9PM
Rude Awakenings
Forgotten underground classics of the 60s, 70s, and 80s with DJ Cathy 2-Tone & Scooter Stalin.
Wu Tang Wednesdays
9PM-1:30AM
Every Wednesday Night at POPS BAR
Razor Sharp Sounds sliced by DJ Kevvy Kev
Classic 90s Hip Hop
No Cover
3/12/15 THURSDAY
6-9PM Happy Hour Entertainment
Drew Smith, singer/songwriter plays popular songs from the 70s-00s with a few originals. Your favorite beach campfire jams whll have you singing along in no time!
BFF.FM Night
9PM-1:30AM
Rotating DJs from BFF.fm radio! This week: Steve Foxx & NITEPPL. Best of all, you're supporting community radio!
No Cover!
3/13/15 FRIDAY
Happy Hour Entertainment 6-9pm with Kid Gorgeous: Rare Grooves, Deep Cuts; Soul, Funk, Psychedelic, Cumbia, Reggae and Beyond with Your Boy Kid Gorgeous!
24 & YORK
A new dance party for the neighborhood! Music from Shane King.
9pm-1:30am / free
3/14/15 SATURDAY
GET LUCKY!
DJs Six & Candy spinning indie dance & electro music videos.
Dance to the underground!
9pm-1:30am / No Cover
3/15/15 SUNDAY
Bushman's Bash Open Jam
Join us for an open Jam at Pop's!
6-10PM
No Cover
POPS BAR
2800 24th Street @ York
San Francisco, CA 94110
www.popssf.com