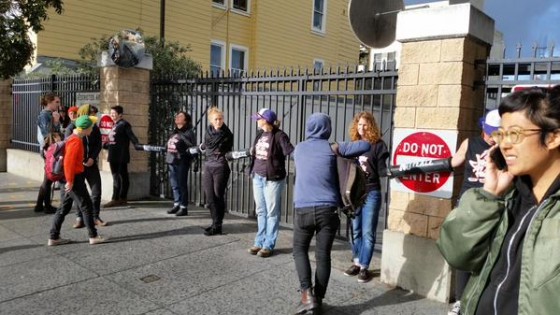 Mission Local reports:
Protesters have blocked traffic with street theater and chained themselves to Mission Police Station as part of an action against officer-involved shootings in the city and in solidarity with the Black Lives Matter movement. The roughly 100 activists began arriving at about 7 a.m. to mark the one year anniversary of the police shooting of Alex Nieto. They were joined by Nieto's parents and the youth rhythm and dance ensemble Loco Bloco.
10 of the protesters joined hands through tubing and chained themselves to the Valencia street exit of the Mission Station parking lot. Public Information Officer Albie Esparza said the action is not interfering with their ability to respond to calls for service with the vehicles they already have out and about. Esparza said the police do not currently have plans to take action against protesters and are simply monitoring their "First Amendment rights activity."
Read on for more story and pics, and some video.