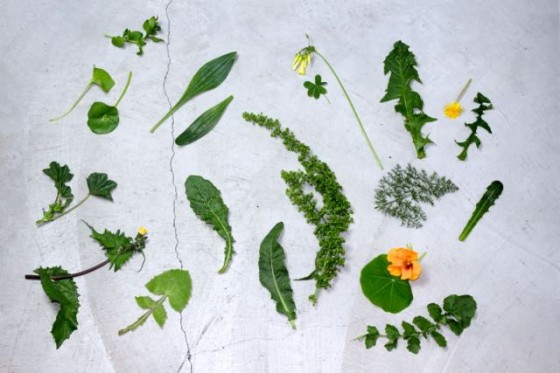 Wild Food Week kicks off this Saturday with a foraging walk in the Berkeley Hills, and continues with special dinners at a number of celebrated area restaurants (including a Mission Chinese Food/The Perennial event on April 8th).
Here's a note from Anthony and Karen of the Mission Chinese Food family:
This is not purely Mission-related news, but we wanted to let you know about a "Wild Food Week" we're organizing with three Berkeley professors (Philip Stark, Kristen Rasmussen and Tom Carlson), who run a group called Berkeley Open Source Food. The idea is to reclaim edible plants currently going to waste (often literally right in our own back yards). By some estimates, up to 40% of edible plants on farms are classified as weeds and are watered, fertilized, harvested, and then not eaten. With a little more exposure and education, these wild edibles could be integrated into the food system, with all sorts of benefits, including free nutritious produce in food deserts. Berkeley Open Source Food is showcasing wild foods with a series of events from a guided foragers' walk to dinners at César, Chez Panisse, Mission Chinese Food, and Mission: Heirloom (details below). We are working with  Capay Valley Farms, F.E.E.D. Sonoma, Good Eggs, Green String Farm, The Living Wild Project, and Say Hay Farms. and will debut a foraging field guide called The Bay Area's Baker's Dozen Wild Greens.
Complete list of Wild Food Week events, with ticketing info, after the jump:
Wild Food Week (April 4-10)
April 4 (Saturday) 10am
Where the Wild Things Grow (Foraging Walk)
Meet at Codornices Park on Euclid Ave
Discover the edible plants at our feet with three expert foragers from UC Berkeley leading a 3-mile loop that goes up to Grizzly Peak Blvd and back down and includes lots of stair paths. Berkeley has about 90 common species of safe-to-eat vegetation, and we expect to spot at least 15 types of tasty greens. Please note: This will be an information-only tour; our guides do not encourage picking or munching our finds. Sorry, no dogs. More details here: http://berkeleypaths.org/events/event/where-the-wild-things-grow/
April 4 (Saturday) 4pm
Cesar
1515 Shattuck Ave, Berkeley
Enjoy tapas at Cesar with featured edible plants that grow wild in the Berkeley hills.
April 8 (Wednesday)
Mission Chinese Food + The Perennial mini-preview
2234 Mission St, San Francisco
Chef Chris Kiyuna is preparing a special 7-item menu featuring wild plants from Say Hay Farms in Yolo County (more to come). In addition to incorporating wild edibles into the Mission Chinese Food palate, the first course will offer a preview of The Perennial, a new restaurant opening in the summer, where Kiyuna will serve progressive agrarian cuisine focused on environmental sustainability. The set menu will be $45 in advance or $50 on the night of the event. Tickets available here.
April 9 (Thursday)
Chez Panisse (Dinner)
1517 Shattuck Ave, Berkeley (downstairs)
Chef Cal Peternell will seamlessly weave a variety of wild plants into the Chez Panisse experience. Call: (510) 548-5525 between 9:00 a.m. and 9:30 p.m. Pacific time, Monday through Saturday. All reservations require a deposit of $25 per person, payable by credit card. The deposit is refundable if Chez Paniss receives notice of cancellation more than forty-eight hours before the reservation
April 10 (Friday)
Mission: Heirloom
2085 Vine St, Berkeley
Dinner in the garden. See how easy it is to re-wild your plate! $40 in advance, $50 at the door (limited seating)
Call (510) 859-4501 for details and reservations.