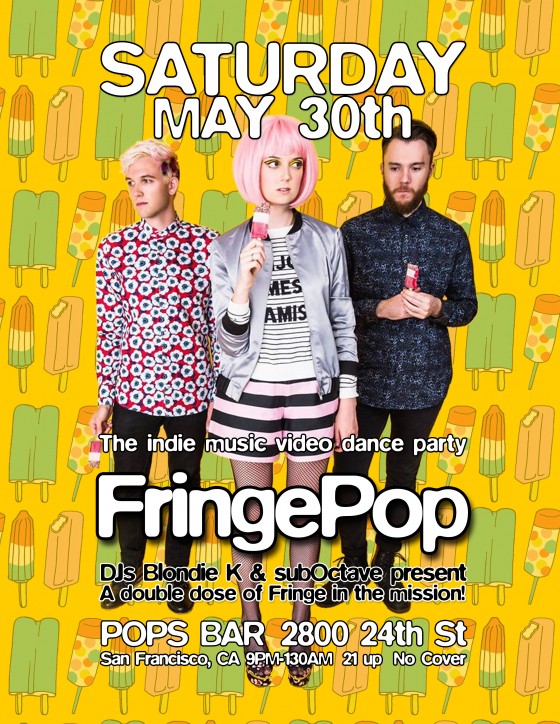 We're excited to welcome back Fringe DJs Blondie K & subOctave this Saturday! Fringe recently won BEST DANCE PARTY in SFWeekly. Having a residency at Madrone Art Bar for the past 6 years, they have also been dropping in Pops Bar to bring their indie music video dance party to the mission with FringePop. So break out those dancing shoes and meet us out on the dance floor this weekend.
See what else is in store this week at POPS:
5/26/15 TUESDAY
Happy Hour Entertainment 6-9PM with Retro Tuesday
A mix of music from a range of decades to keep you groovin
Tropicana Tuesdays
"Quality Latin BASS"
Every Tuesday at POPS BAR
Music: FREE (Local BayArea DJ`s)
Salsa Lesson: FREE (Instructor La Muerte)
Time: 9pm – 2am
Music by local BayArea DJ`s, such as Stepwise, El Kool Kyle, Mr. Lucky, Mr. E, J Boogie and more…
Salsa I LatinHouse I Latin HipHop I Moombahton I DubCumbia I Merengue I Bachata I Dancehall I LatinReggae I and more…
5/27/15 WEDNESDAY
Happy Hour Entertainment 6-9PM with DJ Bezera
Whatever Wednesdays
9PM-1:30AM
Whatever Wednesday is YOUR PARTY, literally. You got DJ skills? Have you been itching to show ALL your friends? Its your turn to take over the night and mix it up. Send us your request, your best mix and we'll see what we can do to get you your turn.
Email: tom@popssf.com
No Cover
21 UP
5/28/15 THURSDAY
BFF.FM Night
9PM-1:30AM
Rotating DJs from local BFF.fm radio! This week: DJ Pizza Party (Donut Leave Us!)
Our beloved DJ Pizza Party is moving to NYC! Come get Emo with us as she spins her feels one last time and eat FREE PIZZA & DONUTS! Drown your sorrows!
Come support local community radio.
No Cover
5/29/15 FRIDAY
Happy Hour Tunes with Steven 6-9PM
DJ King Most
HIP-HOP & R&B, Electronic & Indie Jams & Classic Vibes
9PM-1:30AM
No Cover
5/30/15 SATURDAY
FringePop
The indie music video dance party is twice as nice & double the fun in the mission!
Want more Fringe in your life? Then this is the event for you! DJs Blondie K & subOctave spin all your favorite indie rock music videos plus the latest remixes causing a buzz on the dance floor.
http://www.fringesf.com/
DJs Blondie K & subOctave spin the best indie rock music videos all night from artists such as:
Empire of the Sun * Foster the People * Grimes * Phoenix * Capital Cities * Matt & Kim * CHVRCHES * Say Lou Lou * MSMR * Two Door Cinema Club * M83 * Cut Copy * Friendly Fires * Yeah Yeah Yeahs * Robyn * La Roux * Passion Pit * Daft Punk * Marina and the Diamonds * San Cisco * The Naked and Famous * The Ting Tings * CSS * Ladyhawke * Chromeo * Yelle * LCD Soundsystem * Franz Ferdinand * MGMT * Miike Snow * Lykke Li * Dragonette * The Rapture * Holy Ghost! * The Strokes * Arcade Fire * Bloc Party * The Presets * Hey Champ * MNDR * Haim * Little Boots * Grouplove * Metric * Housse De Racket * Tegan & Sara * Icona Pop * The Killers * Ellie Goulding * Strange Talk * Metronomy * Atlas Genuis * Classixx * Yuksek * RAC * Many More!
Sign up on facebook and twitter for the latest news:
http://www.facebook.com/fringesf
http://www.twitter.com/fringesf
9pm-1:30am
NO COVER
POPS BAR
2800 24th Street @ York
San Francisco, CA 94110
www.popssf.com