Roald Dahl's works are often shelved in the Children's section of the library, but in reality Charlie and the Chocolate Factory, Matilda, and James and the Giant Peach, are all pretty dark compared to traditional kid-fare. (Who wasn't a little scarred by Willy Wonka's chocolate river tunnel boat ride horror show?) Though part of our initial excitement about getting to see Matilda, the tour of the Broadway musical adaptation of the Dahl classic which is now playing at SHN's Orpheum Theater, should be attributed to childhood nostalgia, we were also excited to see how the show succeeded in being a hit with adults too. So off we went for a night of Drama Talk, Drinks and ICE CREAM (Humphry Slocombe previewed a new-Matilda inspired flavor at opening, it was delicious and will supposedly now be available with a limited run a local shops, go get your sugar rush on)!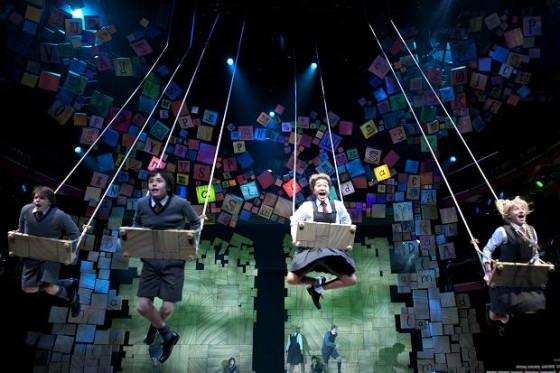 Katie: So many kids in this show! Extremely well trained, talented kids! And they looked like they were like 8! Knowing how much goes into being in a national tour of a Broadway show, I wondered what it must be like for them to have such an unconventional childhood. Well, really not have a childhood. What will these kids be like at 18?
Brittany: They will either decide they don't want to act anymore, and say what the hell was my childhood?! Or end up like Brittany Spears and Miley Cyrus, so pissed off that they didn't have a childhood they start licking random shit.
K: Hmm… well the plus side is they made the show so cute.
B: It was so cute! And so clever.
K: It was like watching a cartoon as a live musical. With how Mrs. Trunchbull was played by a man and wearing the exact costume from the book, all of the special effects, to the jerky, unnatural choreography and not to mention the swinging a kid by her braids.
B: I can't believe they were able to pull that off. How did they even do that?! And the actor that played Mr. Wormwood was so old school vaudeville. Like the way he did takes and kicks in every single one of his exits was really cartoony. He was amazing.
K: He was great! So was the male actor that played Mrs. Trunchbull.
B: Sometimes when you have a guy play a female character and it's like the fat women who is bad or crazy it comes off as weird and rubs me wrong. But this was done in a very tasteful way. Overall, I didn't think it was going to be as dark and scary as it was. As an adult that made me really like it. It was a surprisingly biting critique of contemporary culture, everybody just cares about being loud. It felt like the song call "Telly" was a critique of Fox News.
K: Or reality TV. I felt like a lot of the message was lets not put so much weight on being the prettiest and the loudest, let's care more about being kind and informed.
B: Yeah, I liked how the show really critiqued the way society so often tells people "Don't be smart. Be pretty." "We don't need substance just a hundred and forty characters will do".(She points to the Twitter office above us)
The Verdict: You don't need to like musicals to like this show, it's so fun and clever. If you hate: light hearted fun, talented kids, smiling, confetti, dark cartoons, swings and english accents you will hate this show. Otherwise, GO GET YOUR TICKETS, it was smart, dark and delightful.
The Drama Talk: This show was nominated for Best Musical, and won Best Set Design and Costume Design for a reason. It is such a refreshing take on a classic story that even though we have all seen the movie, this adaptation still surprises and does not disappoint.
The Drinks: After over two years of DT&D we have been to nearly all the bars in a two block radius of the Orpheum, so we were excited to see that a new bar/restaurant called Dirty Water opened opened on 10th and Market…Yep, inside the Twitter building. We were intrigued, but skeptical. We walked up to the door off of Market, but it was locked. We went around and entered through the alley off of 10th St. As you enter, you question if you are still in San Francisco… but after a chat with the very nice and knowledgeable bartender who makes you the best cocktails you ever had, skepticism quickly makes way for fandom. Brittany had the Long Strange Trip and Katie had the Suffering Bastard. The drinks aren't cheap, and neither is the show, but both were very worth it.
Matilda runs through August 15th at SHN's Orpheum Theater. Tickets are available through SHN's website for $45-$210. They are also doing a $40 rush tickets for every show, so show up 2 ½ hours before any performance to try your luck. 2 per person. At the moment Goldstar also has tickets for sale for $65.