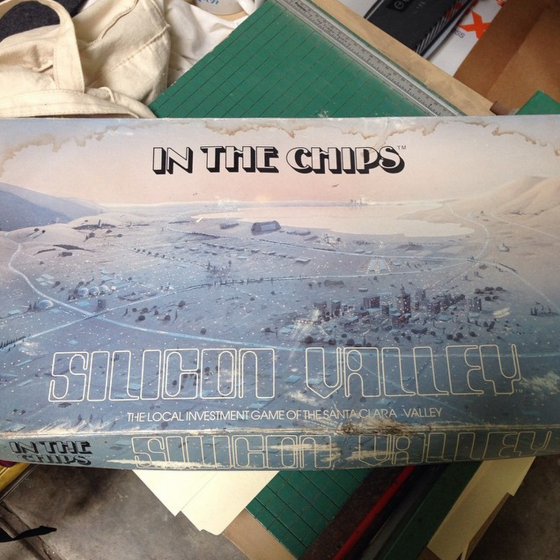 Local artist Jenny Odell just stumbled upon this relic at the dump. What a find!
Here's the rundown, from BoardGameGeek:
"Welcome to the Silicon Valley! You'll soon be traveling through the Santa Clara Valley on its main highway, earning income, buying a new car, buying a home, and making investment decisions. Naturally, you can succeed or fail; just like reality, some of the decisions are up to you."
Many elements in this game are real businesses, Intel, HP, Varian, Memorex, San Jose Mercury, Stanford, San Jose State, Sant Clara Univ. Local major Banks, Auto dealers, Real Estate companies real places. Months of research planning and coperation and their participation. No one was ever charged to be in the game. It really played well. It would have to be done by 4 locals to understand how it had a strategy and used math skills other than counting bills.
One person surmised–Appears to be a conversion of 'The Game of Life' to a local region similar to the multitude of '-opolys' -but never played it.
This board game was the most succesful in the region of San Francisco/Silicon Valley for 11/80-1/82 selling about 30,000 copies. Only behind a popular toy Rubik's Cube. Later others ITC San Francisco, ITC Hawaii, ITC New York, RW Marathon Game, Dotto and lastly a solo effort the official-KFAT Gilroy Garlic Game 5K.
Read on for lots more — like lots — on the game's inventor.
Also, there's one — like only one — for sale on Amazon if you're real interested.