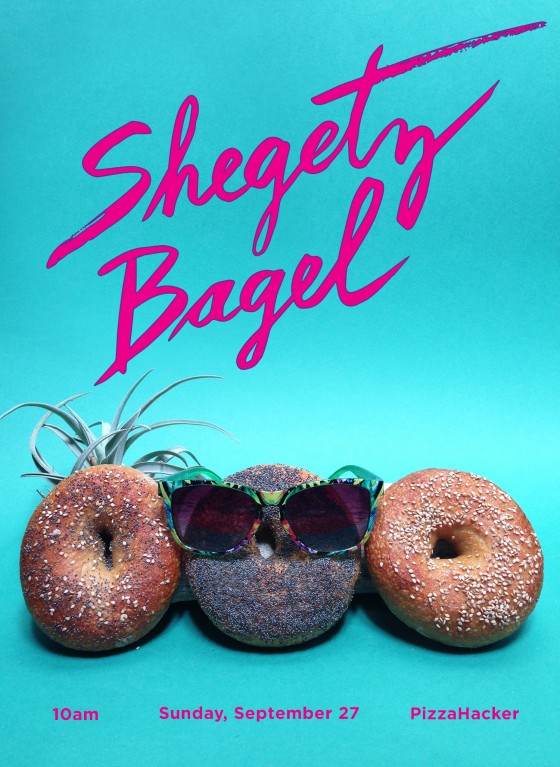 Epic poster art, right?
Here is the press release in full:
We, the shegetz of Shegetz Bagel, don't believe that it takes a New York City zip code (or water supply) to make a killer bagel, and we intend to prove it by boiling and baking them up, right here on the West Coast.
Shegetz is a collaboration between two San Francisco natives, Oliver Steele and Ben Kaminsky, and their long-time conspirer Alex Rogers; all three well-known staples in the Bay Area food and coffee scene. Rogers developed the lauded bread recipe for Local's Corner, and became well-versed in bagel-making, working with Michelle Polzine at 20th Century Cafe (though Shegetz will be more akin to the New York style). Steele, a member of the industry darling Pizzetta 211, is a practiced set of hands in the world of dough and pastry. Kaminsky is a three-time US Cup Tasters Champion. After a three year stint as the Director of Quality Control and Espresso at Ritual Coffee, he has become a sought-after international coffee consultant and most recently helped launch Saint Frank in Russian Hill.
Some things to know about our pop-ups:
Bagels will not be toasted. Fresh bagels do not need to be toasted (because, you know, they were just in an oven.)
Our West-Coast style bagels use sourdough starter
Bagels will cost $5–12 depending on toppings.
We will try to always have a full staff so you don't have to wait too long.
The bagels are likely to go fast.
The first Shegetz Bagel event is this Sunday the 27th at PizzaHacker.