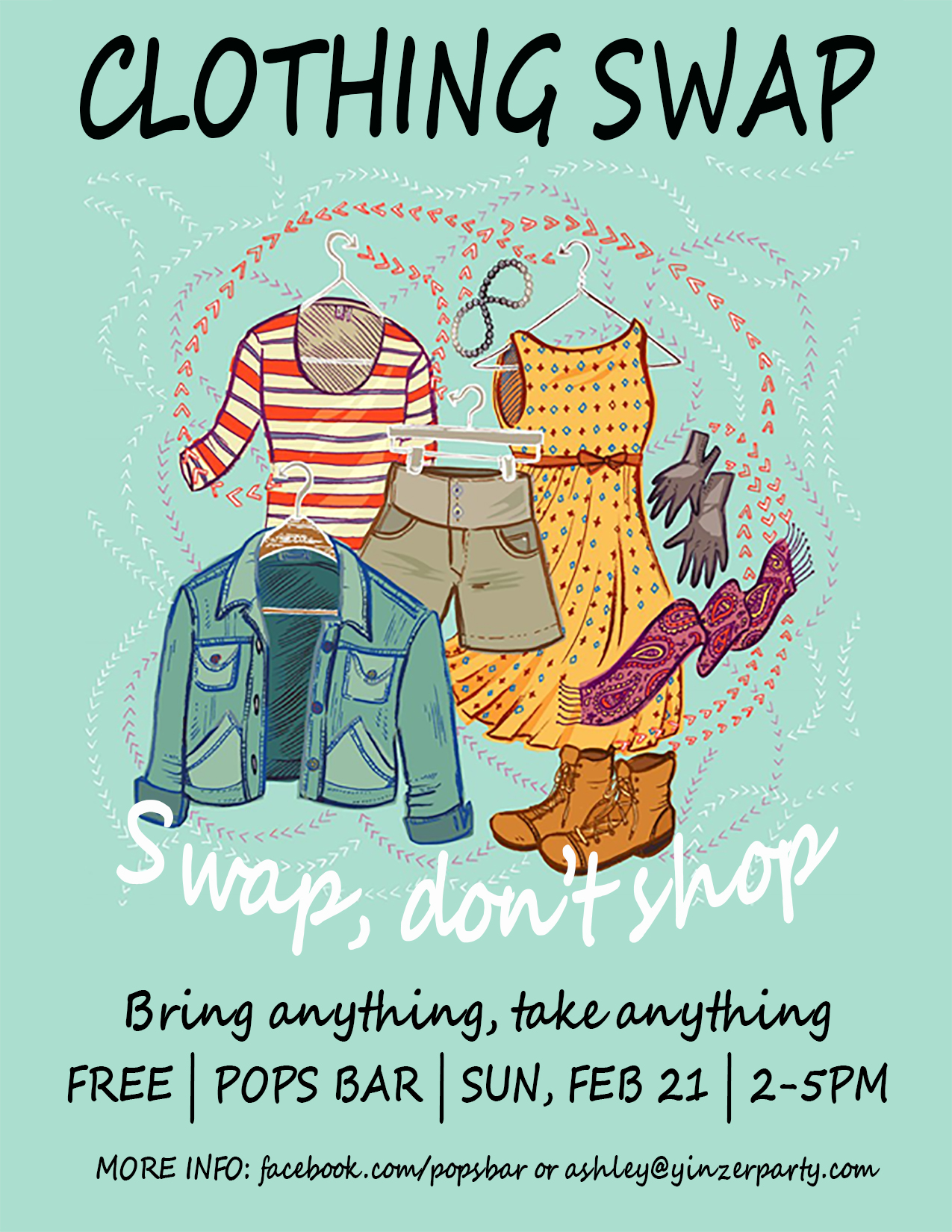 Cleaning out your closet has never been more fun. Gather up your clean, unwanted clothes, shoes & jewelry. Come down to Pops Bar on Sunday 2/21 from 2-5PM and let the swapping begin! Leave some clothes, take some clothes all while sipping Bacon Bloody Marys. We'll take care of sorting the items, all you have to do is show up and have a perfect Sunday afternoon of hunting for new clothes and enjoying a drink at Pops Bar.
Check out this week's entertainment line up at Pops Bar:
2/15/16 MONDAY
Metal Mondays
Hosted by BFF.fm & Cult of Riffs
9pm-2AM
Keepin' it real and playing all things heavy! If you're false, do not enter! Classic 60′s, 70′s, 80′s deep cuts, black metal, death metal, thrash metal, NWOBHM, proto-metal, psychedelic, heavy blues rock, hardcore punk, d-beat, noise. ANYTHING WITH RIFFS!
No Cover
2/16/16 TUESDAY
Trivia Tuesdays
Pops Quiz
$2 to play
8:30-10:30PM
Join us every Tuesday of the month and test your wits at Pops trivia night "POP's Quiz" where your brain may get stump on categories such as Pop's culture, Sports, Movies, Music and more, with little snippets of audio and visual effects too! So come on in for some good ole fashion competition and a night of drinking with the crew! It is a 2 dollar cover and winner gets the pot!! so tell friends and family because the more peeps the steeper the cash prize is!!
MUSIC THERAPY
Electro-Cumbia Breaks, Hip Hop, Nu Latin Beats
9PM-1:30am
No Cover
21 UP
2/17/16 WEDNESDAY
DJ Bill
Happy Hour 6-9pm
Punk Rock Karaoke
9pm-Close
2/18/16 THURSDAY
Retro Thursday
Happy Hour Entertainment 6-9pm with DJ Sektor
BFF.FM Night
9PM-1:30AM
Rotating DJs from local BFF.fm radio! This week: Tuff Signals w/ Jess & Lizzy- garage rock, emo, and punk rockers!
Come support local community radio.
No Cover
2/19/16 FRIDAY
Happy Hour Entertainment 6-9pm
Haight Street All Stars
If you are looking for a good time, Todd's rock and roll band, "The Haight Street All-Stars" will exceed your highest expectations. Featured at the Haight Street Fair this year, the blues/rock sensation, "The Haight Street All-Stars" will keep you dancing throughout the night. Playing songs to the likes of James Brown, B.B. King, Aretha Franklin, Albert King and many more. "The Haight Street All-Stars" are fun from beginning to end. Come on out to enjoy some soul in San Francisco !
Roger Niner Karaoke
9PM-1:30am
"Roger Niner is back in The Mission… at Pops! And he's bringing his big ole' book of rare and unheard karaoke tunes! Find and sing a new favorite or a long forgotten oddity! Karaoke like you never left the basement of your parents house! We go until they tell us to shut the hell up! Check out the songbook at book.rogerniner.com, and PREPARE!"
Web: www.rogerniner.com,
Facebook: Roger Niner Karaoke,
Twitter: @rogerniner
Instagram: @rogerniner
2/20/16 SATURDAY
CANDY RAIN
THE GAWDS OF MEDIOCRE RAP MP3S PLAYED TOO LOUDLY OUT OF A SUBPAR HOUSE PARTY SOUND SYSTEM ARE BACK.
9PM-1:30AM
No Cover
Throwback 90s, early 2000s hip hop and R&B
21 UP
2/21/16 SUNDAY
CLOTHING SWAP
Time to clear out your closets for a slew of Awesome. New. Clothes!
Here's how the clothing swap works:
1. Gather up all the clothing, shoes, accessories, jewelry, etc. that you don't want anymore (or that you can't sell to Crossroads) and get your friends to give you their stuff too.
2. Bring it to Pops on Sunday, Feb 21st from 2-5PM
3. Grab whatever you'd like that others have brought.
Plus Sip on Bacon Bloody Marys and delicious Mimosas.
You don't need to bring anything to swap to get good stuff. Just bring your awesome self and help find these clothes a new home.
We'll take care of donating any clothing that doesn't get taken to Goodwill, Salvation Army, and/or various Women's Shelters
POPS BAR
2800 24th Street @ York
San Francisco, CA 94110
www.popssf.com