Getting a little tired of the same scene? It's time to get out and do something different! On October 24th and 25th, the Cotopaxi Questival, a 24-hour adventure race, is coming to San Francisco. "What the hell is that?" you say. It's basically a giant, interactive scavenger hunt across the city.
Gather your friends into a team of two to five folks and get ready tackle up to 200 challenges. From urban bouldering to picking up trash in your favorite park to camping out under the stars, each team navigates their own unique experience. Posting proof of your achievements on Facebook, Twitter, and Instagram is essential if you want to win one of the event's epic prizes. Your team will compete to win an international humanitarian trip, a ski trip to the Rockies, and tons of other prizes. And even if you aren't a finalist everyone will even get to enjoy a free concert at Crissy Field with local bands, food trucks, drinks and more!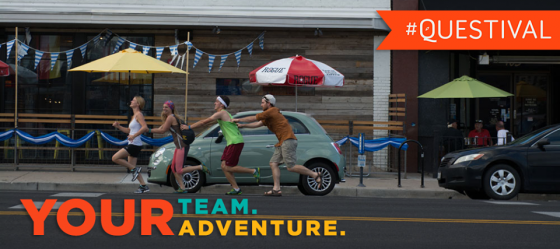 What's included:
Entry for one to the Cotopaxi Questival, a 24-hour outdoor adventure race.
Each team member receives a Cotopaxi Luzon backpack.
Up to 200 challenges themed with either fitness or a humanitarian focus.
Post-race benefit concert with local bands, food trucks, drinks and more.
Prizes for winning teams include a humanitarian trip to Mt. Cotopaxi & the Amazon in Ecuador, ski trips to the Rockies, guided adventures in California, cash prizes, free gear and much more.
Cotopaxi Questival isn't just an adventure race, it's a movement dedicated to getting people to get outside and do some good while they are at it. How to prepare is up to you, but with this spirited race, creativity, stamina and, maybe a little caffeine, will be essential.
For a look at what you're in for, check out the highlight reel from the last Questival in Salt Lake City.
Are you in? Get your team signed up now and use the code MISSIONQUESTIVAL and you'll get 30% off the ticket price!
For more information: http://questival.cotopaxi.com/
To register: http://www.eventbrite.com/e/cotopaxi-questival-san-francisco-bay-
area-registration-11700804421