I haven't seen a Cirque Du Soleil show in about 9 years and Garrett had never seen one. So this year I knew we needed to check out Volta. So off we went to the parking lot of AT&T Park to see what was going on underneath that huge tent.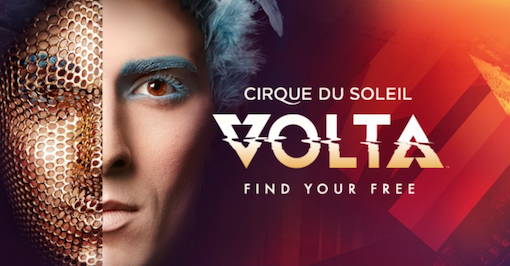 Katie: Having only seen a Cirque Du Soleil show about insects, I enjoyed the heartfelt, darker tone and mood of Volta's storyline. I also liked that they explored themes of how technology can be a negative distraction and it can keep us from each other.
Garrett: Having never seen a Cirque du soleil show before, I was thoroughly impressed and entertained. I was mesmerized with what was going on. I liked some of the themes they explored but there were times where the story was hard to follow and didn't really match was was happening in a scene.
K: Yeah, agreed, but overall I thought it was beautiful. The music, lighting and costumes were so great. The show feels like a concert, but also a dance show and also an exciting athletic event with acrobats and gymnasts.
G: Yeah, the vibe was really cool. The relationship between the performers and the audience is very unique, and different from anything I've seen. Everyone's very encouraging because you understand that what they are parc aquatique gonflable doing is dangerous so there is applause when someone does something cool or when someone messes up they get love from the audience. Having driven past those tents hundreds of times over the years, it's incredible to finally see what's going on inside, and I like it. They create such a unique environment…you forget you're in a freaking parking lot!
 The Verdict: Cirque Du Soliel shows are all about spectacle and Volta doesn't disappoint. Bring a date, bring the fam, this show is for everyone.
The Drama Talk: Wow. How do they do it? You forget how difficult these things are because they make it seem so easy. Tricks off trampolines, with bikes and jump ropes, through hoops and in the air, there were like 100 athletic achievements being done and it was all pieced together with a story of a young man who has lost touch with himself because he's different. The storyline has some cool, beautiful moments, but overall it didn't quite feel cohesive. However, the incredible performers, music, and lighting make up for it.
The Drinks: There was free champagne at this performance as well as a bar so we decided not to venture, but if we did we were going to go to the Atwater Tavern since it's pretty much in the same parking lot.
Volta plays through February 3rd under the Big Top at AT&T Park. Tickets range from $68-$290 and can be purchased on their website. Right now there are discounted tickets available on Goldstar.