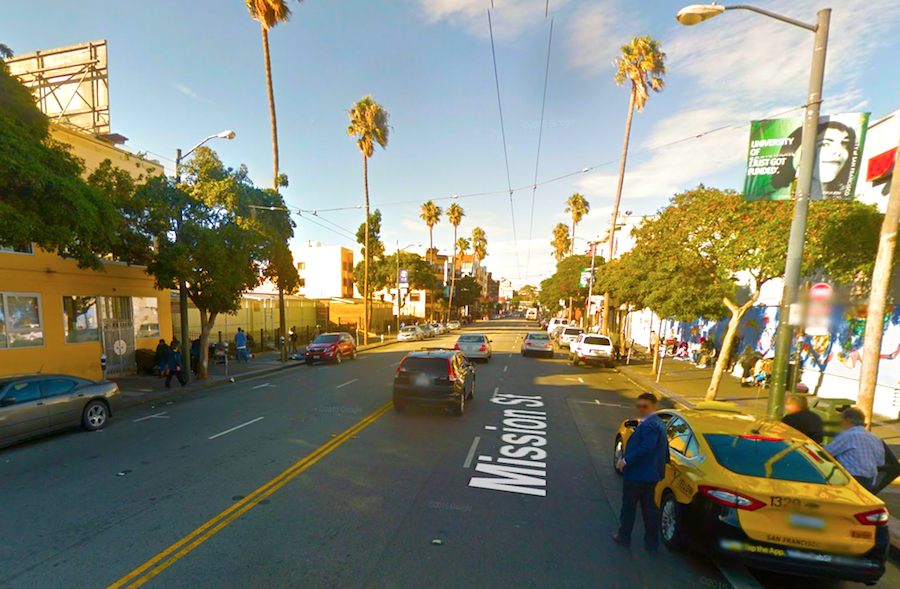 Our old pal zinzin, one of our earliest and most devoted commenters, left the Mission about 7 years ago, but he still goes to the gym here. Check this out:
my gym is at 16th & mission. i lived near that corner for almost 20 years. it's the heart of sketchiness in sf. the blocks around it are a 24/7 open air drug & prostitution market. always has been. over the years, the sketch has been compressed down into the blocks immediately surrounding 16th & mission. the block where my gym is – mission between 15 & 16 – is particularly sketchy. big crowd of people – the same people – every day, and i go to the gym at 9am. commerce is clearly being done. mental illness is clearly on exhibit. it's a crowd of almost exclusively black people (not too many black people live in the mission), many of them speaking spanish. i dont really have a horse in this race (so to speak – heroin being the main drug for sale) – i moved out of the hood 7 years ago – but I'm fascinated by the sociology. so, today, for the first time, i say more than 'hi' to one guy in this crowd who i see almost every day.
me: so dude, this is a big family here every day.
dude: yeah man, we got to get paid.
me: yeah i can tell there's business going on.
dude: are you a cop?
me: dude you see me every day. you think I'm a cop?
dude: i have to ask.
me: i dont care what y'all do out here, but I'm amazed that the cops dont shut you down.
dude: nah, it's live and let live with the cops unless there's violence.
me: i never see any
dude: only at night. dont come through here at night.
me: i used to live right around the corner here.
dude: i would never live in this neighborhood. it's too dangerous.
[Photo by Google Maps]