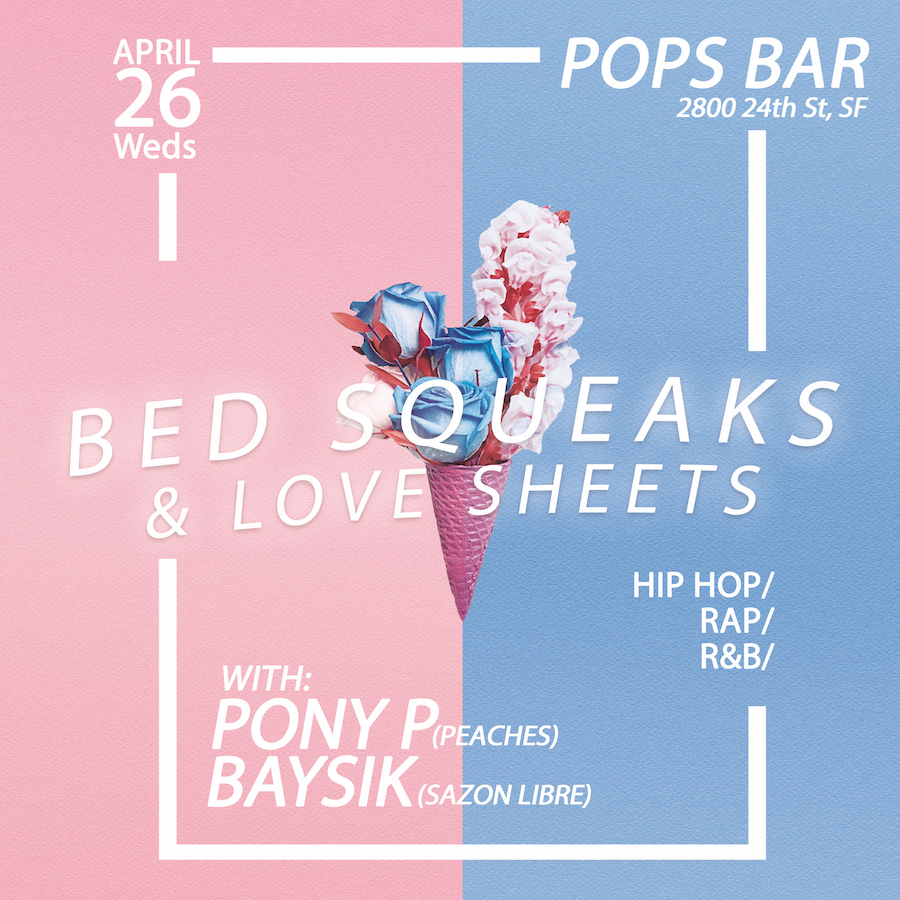 Who doesn't love a good mid week dance party?  We are so excited to announce what's sure to be your new favorite party: Bad Squeaks & Love Sheets.  Local favorites DJ Pony P from PEACHES & DJ Baysik from Sazon Libre have joined forces to make your week more awesome.  Hip Hop, Rap, R&B all night from 9pm-2am this Wednesday at Pops Bar.
Check out this week's full entertainment line up at Pops Bar:
4/24/17 MONDAY
Moto Monday
Moto Monday: Bikes, Booze, and Babes. Come talk shop and kick the Monday blues with our very own motobike loving bartender, Chelsea.
21+, No cover.
8pm-Close
4/25/17 TUESDAY
Trivia Tuesdays
Pops Quiz
$2 to play
8:30-10:30PM
Join us every Tuesday of the month and test your wits at Pops trivia night "POP's Quiz" where your brain may get stump on categories such as Pop's culture, Sports, Movies, Music and more, with little snippets of audio and visual effects too! So come on in for some good ole fashion competition and a night of drinking with the crew! It is a 2 dollar cover and winner gets the pot!! so tell friends and family because the more peeps the steeper the cash prize is!!
MUSIC THERAPY
Electro-Cumbia Breaks, Hip Hop, Nu Latin Beats
9PM-1:30am
No Cover
21 UP
4/26/17 WEDNESDAY
Benezra Tergis
Happy Hour 6-9pm with Benezra Tergis and friends playing live latin sounds with keyboards, percussion and vocal guests.
Bed Squeaks & Love Sheets
With DJs Pony P (Peaches) & Baysik (Sazon Libre)
Hip Hop / Rap / R&B
9pm-2am
No Cover
4/27/17 THURSDAY
BFF.FM Night
Rotating DJs from local BFF.fm radio!
This week: Hang The DJ New Wave Night with DJ Zero One
Join us for a night of post-punk, power pop, new wave, and other time- and genre-adjacent tunes. Cold beers, cool people, rad musics.
9pm-2AM
No Cover
4/28/17 FRIDAY
CUFFIN
COME CELEBRATE FOR OUR 1ST BIRTHDAY
AN ALL THANGS R&B PARTY!
We are bringing past, present, and future R&B to you
Cuffin season is EVERY SEASON
Tunes:
AMP
Jon Reyes
Boogie Brown
Special guest:
FRANCHISE
EDICA+
Follow us on IG: CuffinSF
No Cover
9pm-2am
21+
4/29/17 SATURDAY
Catmandu Takeover
Catmandu Takeover of Pop's Bar. Free entry. All your favorite Catman DJs will be playing their finest tunes. All proceeds benefit Catmandu Camp 2017.
9pm-2am
No Cover
4/30/17 SUNDAY
FPWK
The Funnest People We Know
Have a favorite old dance song on vinyl? Bring it! You be the dj. It's that time again, dust off those funky records if you got 'em! Play and listen to your favorite tunes. Come dance to vintage funk and soul with the funnest people you know. We want YOU to come play records and dance with us. You ARE the Funnest People We Know!
10PM-1:30AM
No Cover
POPS BAR
2800 24th Street @ York
San Francisco, CA 94110
www.popssf.com