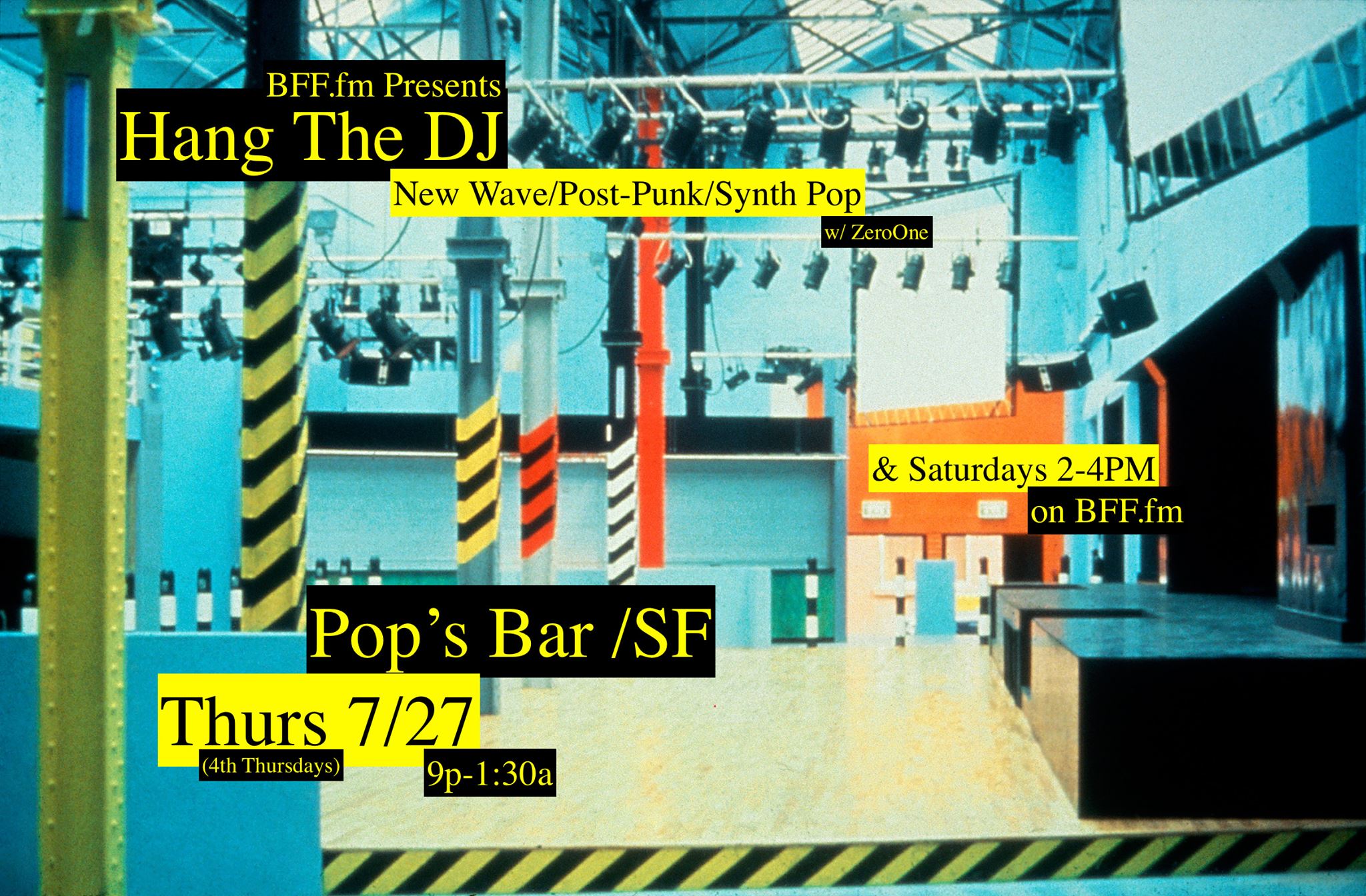 This Thursday at Pops Bar, DJ Zero One takes you on a journey through post-punk, new wave, and synth-pop jams at Hang The DJ. Hang the DJ also broadcasts every Saturday 2-4pm at our favorite local mission district radio station, BFF.fm. The Queen is Dead but long live new wave music! Come out and dance with us this Thursday.
Check out this week's full entertainment line up at Pops Bar:
7/24/17 MONDAY
Monday is Nuts
Come shake off the Monday Blues with your one of your favorite happy hour bartenders Nick.
21+, No cover.
8pm-Close
7/25/17 TUESDAY
Trivia Tuesdays
Pops Quiz
$2 to play
8:30-10:30PM
Join us every Tuesday of the month and test your wits at Pops trivia night "POP's Quiz" where your brain may get stump on categories such as Pop's culture, Sports, Movies, Music and more, with little snippets of audio and visual effects too! So come on in for some good ole fashion competition and a night of drinking with the crew! It is a 2 dollar cover and winner gets the pot!! so tell friends and family because the more peeps the steeper the cash prize is!!
MUSIC THERAPY
Electro-Cumbia Breaks, Hip Hop, Nu Latin Beats
9PM-1:30am
No Cover
21 UP
7/26/17 WEDNESDAY
Sterling Soul Night
Soul/R&B/Doo Wop/Girl Groups ALL 45s
with Matty Holt and guest DJs
6pm-9pm
No Cover
21 UP
MARS NEEDS WOMEN
Free your mind/booty with a tribute to all female artists of hip-hop, house and other loose grooves assembled by Teemoney for your pleasure!
9PM-1:30AM
No Cover
7/27/17 THURSDAY
Happy Hour Entertainment 6-9pm with DJ Rick
BFF.FM Night
Rotating DJs from local BFF.fm radio!
This week: Hang The DJ New Wave Night with DJ Zero One
Join us for a night of post-punk, new wave, and synth-pop jams every 4th Thursday.
9pm-2AM
No Cover
7/28/17 FRIDAY
Happy Hour music with Resident DJ Sektor 6-9pm
CUFFIN
AN ALL THANGS R&B PARTY!
We are bringing past, present, and future R&B to you
Cuffin season is EVERY SEASON
Tunes:
CHAMP$
Jon Reyes
Boogie Brown
No Cover
9pm-2am
21+
7/29/17 SATURDAY
Brunch Mob
10am-3pm
with DJs Milton Badley and Snelly Davis Jr. Soothing classics to accompany your Bacon Bloody Mary.
DJ Sektor
Happy Hour music with Resident DJ Sektor 6-9pm
Rhyme Time: Feelgood Rap Music
9pm-2am
Beats and rhymes for happy times! Teemoney spins all eras of rap music to make you feel good.
POPS BAR
2800 24th Street @ York
San Francisco, CA 94110
www.popssf.com