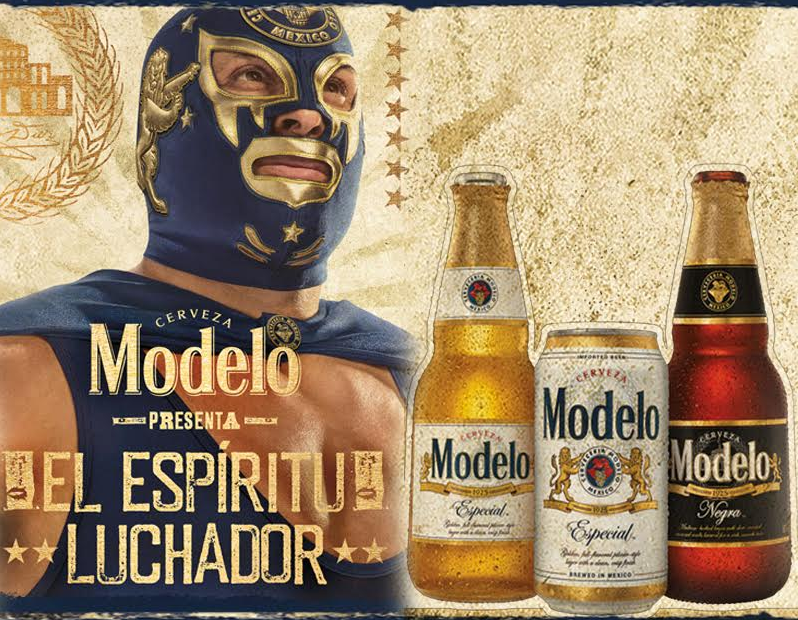 We're all winners at Pops Bar. This week you get an extra chance at "winning". SFWeekly has teamed up with Modelo to give you a shot at winning Warriors tickets. Come party with us this Friday at 24&York. Be there at 11pm to snap a photo with the Luchador and post to FB or Instagram with the tag #luchamodelo and while you're at it: #winning, cause why not?
Check out this week's full entertainment line up at Pops Bar:
8/7/17 MONDAY
DJ Alex Dewall
Rockin' out early '60s & '70s CLASSIX: Beatles, Kinks, Stones, Hendrix, Doors, CCR & many more!
21+, No cover.
6pm-9pm
8/8/17 TUESDAY
Trivia Tuesdays
Pops Quiz
$2 to play
8:30-10:30PM
Join us every Tuesday of the month and test your wits at Pops trivia night "POP's Quiz" where your brain may get stump on categories such as Pop's culture, Sports, Movies, Music and more, with little snippets of audio and visual effects too! So come on in for some good ole fashion competition and a night of drinking with the crew! It is a 2 dollar cover and winner gets the pot!! so tell friends and family because the more peeps the steeper the cash prize is!!
MUSIC THERAPY
Electro-Cumbia Breaks, Hip Hop, Nu Latin Beats
9PM-1:30am
No Cover
21 UP
8/9/17 WEDNESDAY
Rude Awakenings
6pm-9pm
Rude Awakenings: Forgotten underground classics of the 60′s, 70′s and '80′s, with DJs Cathy 2-Tone and Scooter Stalin
8/10/17 THURSDAY
Forget me Knots
6pm-9pm
Forgotten classics from then and now
Friendly Fire: California Funk/Rap/Hip-Hop and Soul Music
9PM-1:30AM
Come join DJ Sonny Phono as he curates a night of new and classic Independent/Underground California music. Friendly Fire is a new concept where the DJ plays music made by friends/acquaintances keeping the basis in Hip Hop/Rap/Funk he'll throw in some remixes of his own and some of the best Dj's he's built with over the years. Come by, you might just hear your original music in the mix! Open Mic Cypher hosted by Tino.
No Cover
8/11/17 FRIDAY
Music For Ghosts
6-9pm
Lester T. Raww spinning music from the 1920's, 30's & 40's.
24 & YORK
Rap Music + Cheap PBR + No Cover + Good Company
9PM-1:30AM
No Cover
#LUCHAMODELO
Party with the Modelo's Luchador for your chance to win 4 tickets to a Golden State Warriors Game.
11pm
8/12/17 SATURDAY
Brunch Mob
10am-3pm
with DJs Milton Badley and Snelly Davis Jr. Soothing classics to accompany your Bacon Bloody Mary.
Lonesome Lester
6-9PM
Lonesome Lester plays three kinds of music: his music, old music, and his old music. Armed with a ukulele, occasionally joined by an acquaintance or two, Lester plays Tin Pan Alley favorites as well as his own songs…which sound like Tin Pan Alley favorites.
SADDERDAY EMO NIGHT
sing and request emo/pop punk/scremo/electro/hardcore/punk
with DJ Kevin Kannibal and Ashley Suicide
9:00pm-1:30am
No Cover
21 UP
8/13/17 SUNDAY
La Piñata
The perfect blend of Electro-Cumbia, Breaks, Hip Hop, and Nu Latin Beats ready to be scooped up. Every 2nd, 3rd and 4th Sunday of the month with DJ Clave spreading the beats from 5-10pm. Free Salsa, Cumbia & Merengue Dance Lessons from 5-6pm with Colombian dance expert, Natalia.
BOPS AT POPS
Need something funky for your weekend wind down? Every 2nd Sunday, Pablito and friends bring you "BOPS at Pops". Old and new hip-hip, fresh-groove bangers, classic soul hits and everything in between. Stop by for tasty drinks, share your smiles in the complimentary photo booth and shake some damn tail feathers! Whatever your flavor we're sure to keep your head boppin'!
10pm-close
POPS BAR
2800 24th Street @ York
San Francisco, CA 94110
www.popssf.com