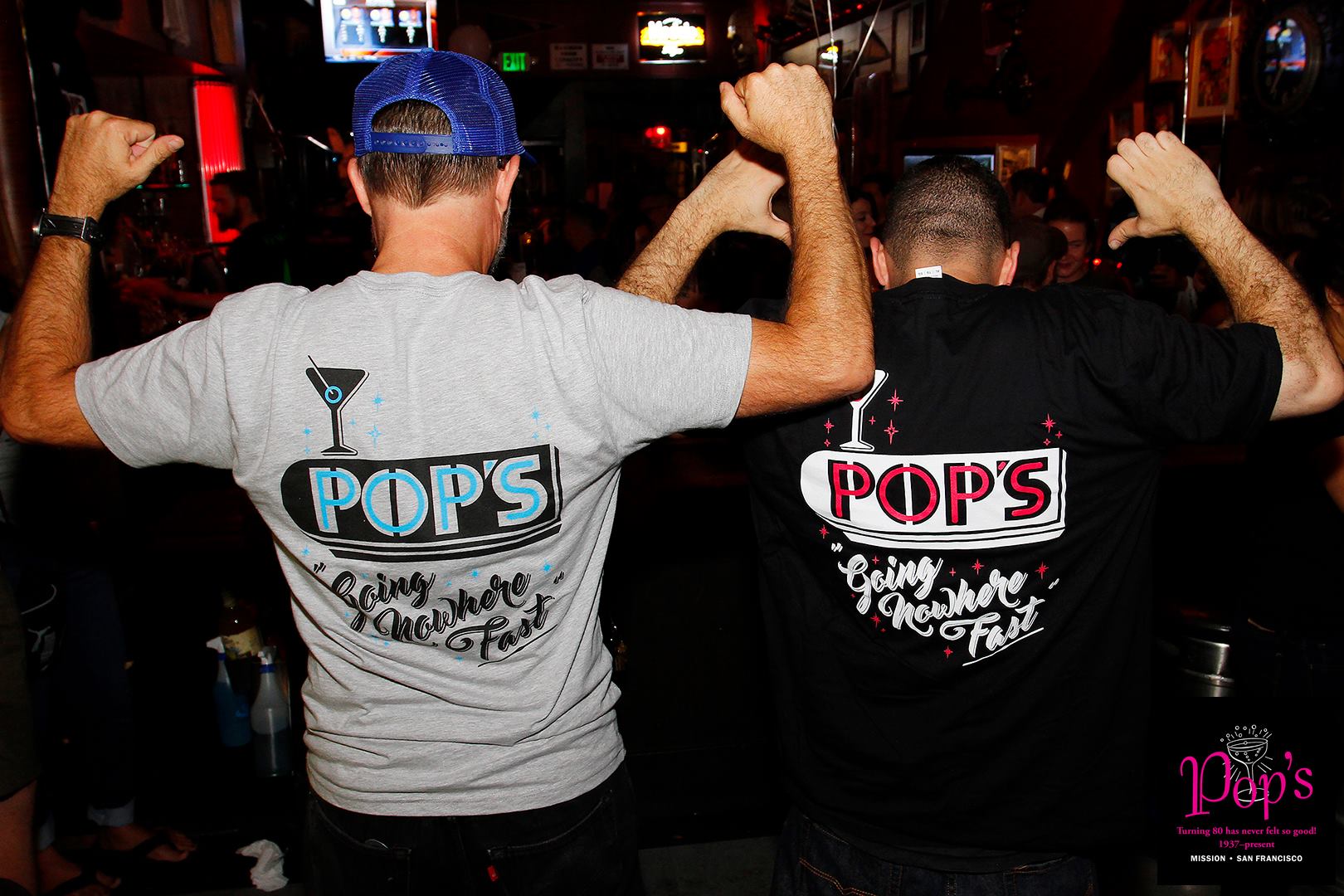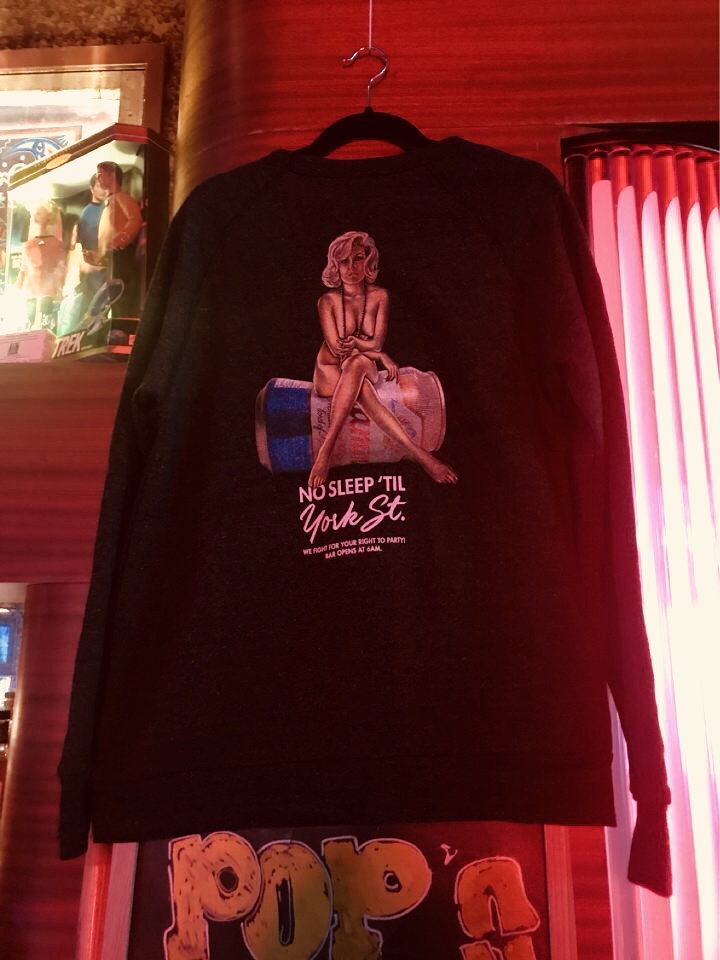 Love your Pops? Now you can show the world! Hop on Pops and get our brand new tee-shirts and sweatshirts.  Represent your favorite bar around San Francisco and go nowhere fast with us! Tees are $20 & Sweatshirts are $50, available at Pops Bar right now.
Check out this week's entertainment line up at Pops Bar.
11/13/17 MONDAY
Monday & Chill
Come join us for drinks at your favorite neighborhood bar.  Streaming non stop good times since 1937.
11/14/17 TUESDAY
Trivia Tuesdays
Pops Quiz
$2 to play
8:30-10:30PM
Join us every Tuesday of the month and test your wits at Pops trivia night "POP's Quiz" where your brain may get stump on categories such as Pop's culture, Sports, Movies, Music and more, with little snippets of audio and visual effects too! So come on in for some good ole fashion competition and a night of drinking with the crew! It is a 2 dollar cover and winner gets the pot!! so tell friends and family because the more peeps the steeper the cash prize is!!
MUSIC THERAPY
Electro-Cumbia Breaks, Hip Hop, Nu Latin Beats
9PM-1:30am
No Cover
21 UP
11/15/17 WEDNESDAY
Sound of Confusion
with DJs Cityhobb & B-Quiet
6-9pm /No Cover
Punk, Post-Punk, Synth Wave Forms, Garage Rock, Rhythmic Blues & Purple Psychedelic Carnage
Spin The Night says Goodbye w/ Zero Fucks
It's with a heavy heart Spin The Night is saying goodbye…. for right now. We have had such an amazing time in our beautiful home of Pops every month THE PAST 3 YEARS but I guess all good things sometimes have to come to an end.
We promise we'll be back next year in some way shape or form, so please stay tuned. Until then, come to Pops and dance the night away with some of our favorite people Zero Fucks.
Spin the night is a fun boozy filled evening showcasing the local heroes working hard to keep the music scene alive and well in San Francisco. No particular genre, just music that inspires us to party on.
9:00 PM - Close
No Cover
11/16/17 THURSDAY
The Pop Files
1pm-8pm

A celebration of Sci Fi and the Supernatural at Pops Bar.  Ponder the mysteries of universe with us.
DJ Mobando
Happy Hour 6-9pm with DJ Mobando brings a Bay Area set for the people. Always slappin, always eclectic.

RHYTHM & BOOZE
9:30PM-1:30AM
Soul for the Blues, and Blues for the Soul.
ft. DJ's
Booker D
Slopoke
A night of powerful Soul Sides and Boozey Blues 45′s!
No Cover
11/17/17 FRIDAY  
Haight Street All Stars
6-9pm
If you are looking for a good time, Todd's rock and roll band, "The Haight Street All-Stars" will exceed your highest expectations. Featured at the Haight Street Fair this year, the blues/rock sensation, "The Haight Street All-Stars" will keep you dancing throughout the night. Playing songs to the likes of James Brown, B.B. King, Aretha Franklin, Albert King and many more. "The Haight Street All-Stars" are fun from beginning to end. Come on out to enjoy some soul in San Francisco !
Roger Niner Karaoke
9PM-1:30am
"Roger Niner is back in The Mission… at Pops! And he's bringing his big ole' book of rare and unheard karaoke tunes! Find and sing a new favorite or a long forgotten oddity! Karaoke like you never left the basement of your parents house! We go until they tell us to shut the hell up! Check out the songbook at book.rogerniner.com, and PREPARE!"
Web: www.rogerniner.com,
Facebook: Roger Niner Karaoke
Twitter: @rogerniner
Instagram: @rogerniner
11/18/17 SATURDAY
Brunch Mob
10am-3pm
with DJs Milton Badley and Snelly Davis Jr. Soothing classics to accompany your Bacon Bloody Mary.
Dj Lo$ada
Happy Hour tunes 6-9pm with Dj Lo$ada
The Rec Department
Nothing But Slap All Night
feat. The Rec Dept & Special Guests
9pm-2am
No Cover
11/19/17 SUNDAY
SPILL THE WINE
CUMBIA * CHICANO ROCK * LATIN SOUL * BOOGALOO
DJs Vinnie Esparza, Guillermo & Slopoke
5PM-10PM
No Cover
21 UP
POPS BAR
2800 24th Street @ York
San Francisco, CA 94110