I recently ran into an old friend who told me about TheatreFIRST, a theatre company in Berkeley that is "an art-as-activism organization investigating new models of equitable representation through our development-based new works process". I think it's so important that theater be more inclusive to people of color, women and the LGBTQ community and it's great that they are approaching that in a really intentional way. I was excited to check out their original play The People's History of Next which was developed with "Bay Area high schools, colleges, and community centers through listening circles, writing workshops, and media foraging". I wanted to see this with someone who also values diversity and youth voices. So Nisa, an arts nonprofit colleague of mine, and myself headed to Berkeley for some Drama Talk and Drinks.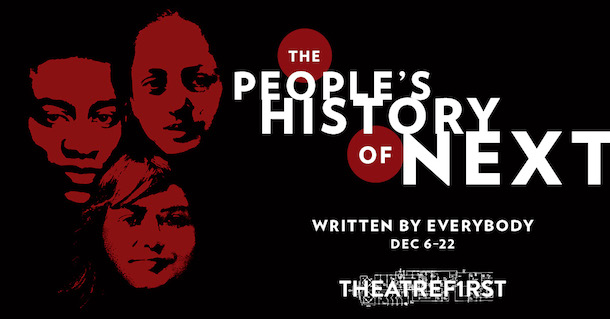 Nisa: This show had a Black Mirror, meets Farenheit 451, meets Sense 8 sorta feel. They touched on some important topics like school shootings and racism and sprinkled in a little dystopia. I think there were interesting things done with movement, which was really cool, and they explored trauma in an interesting way. Then there was also a Matrix oracle type character, and discussions about the past, present and future. It was a lot to digest. The young actors did a great job with the words they were given. I don't know how this was jeux gonflables developed with high school students and how their words came into play but it did feel very much like an adult took young people's words and kind of manipulated it. Maybe manipulated is a harsh word, but It felt like a touch of youth and a lot of adult. And I didn't believe the words coming out of the youth's mouths sometimes. Also I find it weird that the Jewish White girl gets the majority of the spotlight and there was this whole thing with her background and Jewish traditions that just didn't quite make sense. The premise of this play really could be the start of a joke like a black boy, an Indian girl and a Jewish girl walk into a theater, you know. Anyway, I feel like there is something there. There are messages clearly there, and there's artistry there too. Felt very much like performance art.
Katie: Totally, and performance art often doesn't inspire or move me. I didn't feel like this show invited me in. It felt like it was a story that only the people involved in creating it got something out of. There was just a lot of yelling and talking at us. It was the moments when the characters were talking to each other that were the most intriguing. The art direction and visual elements were really cool. My issues were not with the actors performance, the set or the projections. It was the story, which was very disconnected most of the time, and when I feel disconnected it's hard for me to be moved.
N: Yeah, and I think what added to that feeling of disconnection was the sound effects. They were used to shock us into feeling a certain way. The story is what should have carried us to feel that certain way.  Also, the use of technology was forced. They mimed having a phone in the beginning and then in the end they had a real phone.
K: Right! One of my biggest pet peeves is when miming is inconsistent. A world was created that didn't make sense for them all to be miming having a cell phone.
N: Honestly, I don't understand what my takeaway was supposed to be and the whole time I was like "where is this going to go?". And yeah, I know all the shit that's happening right now, and these are important issues but it felt like these issues were thrown in a blender and I couldn't understand what the main message was. The show was so focused on being deep, that they missed it.
K: To use words from the play, it was about everything and nothing.
The Verdict: Intriguing idea and approach, but a confusing end product. Definitely check out TheatreFIRST, but maybe wait until the next show.
The Drinks: We saw a matinee and bars weren't open yet near the theater. So we went for a delicious Mexican mocha at Fertile Grounds Cafe.
 The People's History of Next plays through December 22nd at Live Oak Theater in Berkeley. Tickets are $10-$30 sliding scale and be purchased on their website.