Last month I saw Old Hats at ACT. Bill Irwin is amazing. It was a really fun show, but I think that title would keep younger audiences away. If the theatre wants to get a new generation coming out, and they need to, they should really adopt a more modern naming convention, as this does this column. Katie & Brittany recently saw The Late Wedding, and while the title may not get you out of your chair, they say the play is worth it. Here's their report: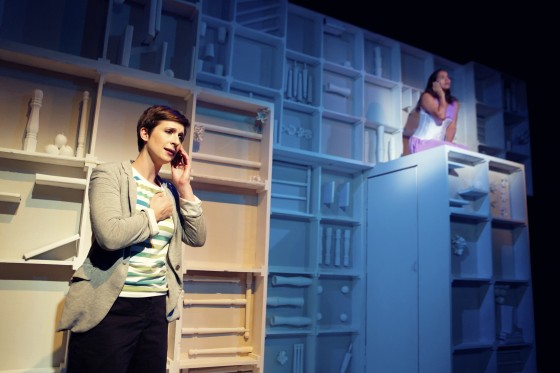 [photo by Pak Han]
About a year ago Katie read a play called The Hundred Flowers Project by Christopher Chen in Theatre Bay Area magazine. She liked it so much she told Brittany "Whenever another Christopher Chen play is produced, we need to go". That time arrived. Crowded Fire Theater Company commissioned the world premiere of Chen's new work, The Late Wedding, and it's now playing at The Thick House.
Katie: I really enjoyed the freshness of the format and devices Chen used. It really brought the audience into the story, and I liked that. I thought the staging was really neat, and the set was awesome. It was so inventive and the use of the space was creative, just that alone is worth seeing.
Brittany: I was continuously interested. At times I felt like the play was throwing me around, but it was fun how the playwright acknowledged it. I loved the asides to the audience, where they said, "That was weird huh, this is why" or "Relax and just go with it". In the opening monologue we're told to "trust the play and let it take you somewhere", so after that I was open to it taking me anywhere, even though I didn't always know where it was going.