For this DT&D we're handing it back over to our original poster, Ariel! He and is mom checked out NCTC's Avenue Q!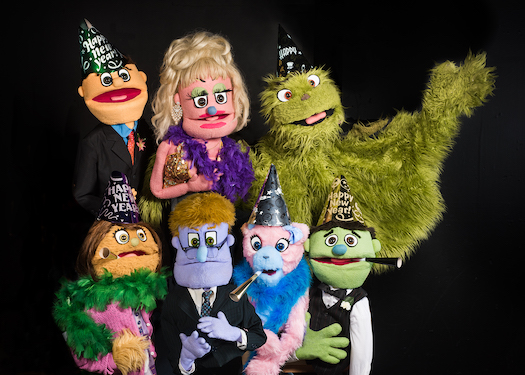 Hi! I'm Ariel and I used to post here. I'm stepping out of my Mission Mission retirement to check out a show that I've always been curious about, Avenue Q. On a cool SF winter night I took my mom out for drinks and a show at the New Conservatory Theatre Center.
Mom: Well, walking down into parcours obstacle gonflable the basement, seeing such nice, modern design underneath Market Street was really fantastic. I really liked that the theater was small and intimate.
Ariel: Yeah, and once they shut the theater doors you could be anywhere, totally ready for wherever the show is going to take you. Well, I love musicals, I love urban stories, I really like puppets. But I was still a bit hesitant at first, like could I really watch them sing for a couple hours?
M: And did it work for you?
A: It did! I think the cast was good, the characters are all very different, interesting and engaging, had charm and charisma, even if they were gross or weird.
M: I really liked the set, how they used different levels of it.
A: You know I'm a sucker for the gritty city vibe.
M: I know, I am too. The songs had good rhythm, everyone was bouncing around. And the show wasn't as gross as I thought it would be. I did get offended a couple of times though.
A: Huh. Well, the racism song definitely has an outdated view of what racism is.
M: The references to suicide felt a little too insensitive. I know that was the purpose of a lot of it, but it was too much for me personally.
A: I did like that the two bad news bear characters at first tell the protagonist, Princeton, to make bad choices seemingly in the pursuit of fun, but ultimately, by the end, it's purely destructive. To me it would have seemed irresponsible to not show us where that behavior goes. It didn't go as far as The Happytime Murders, which I didn't see but I heard wasn't good, or Meet The Feebles. I also worked on a movie where puppets were having sex and doing drugs and stuff, so I appreciate the instinct, but also appreciate that they didn't go too far. It wasn't just let's see what we can get a puppet to do.
M: I thought that the Asian character was a little too exaggerated. Her husband was like a big Jewish guy, right? But he was also just a guy, he had other stuff, but she always seemed stereotypically Asian. Her character stood out that way.
A: And when Eimi Taormina finally had her big number she was really great. How responsible are you to resolve all of the topics that you bring up to get people to react? Like the gay issues, they really worked through and I feel like they resolved it. Not with every issue though.
M: I thought Danya El-Kurd was so intriguing. She wasn't really looking at the audience, but she was still so expressive in her face. She was very empathetic to the feelings of the puppet. I was in and out with Kamren Mahaney as an actor. Sometimes I felt like his presence overpowered the puppet.
A: I had that thought too, he was great, but sometimes it seemed like he wanted to throw the puppet aside and take the stage. I wasn't sure how much of that was a choice, by him or the director, because he was the lead. I was curious how they made choices about the human vs. puppet presence. At first I was finding myself focused on the person, but by the second or third song I was switching to the puppet. There was interesting character work.
M: when the puppets were having sex, the acting of that, the physicality, was great.
A: I loved Chelsea Carruesco's voice for the character of Kate Monster, I really liked the character and she had a really nice singing voice. But she was quieter than the other actors, her voice didn't carry out as far. Even though it was a small theater, they had to play over the puppets too. She was a little more inward and subdued. So even though I loved her voice, I wish that she had sung out more.
M: I always like in any kind of performance the performers come out into the audience, I really liked when they did. It made us all feel like little kids, getting to be up close with the puppets talking to us. So, would you send people to see it?
A: I would, for sure.
M: Would you send people who enjoy comedy? Or musicals?
A: I think musical theater is for everybody. I could see people being turned off by puppets, or singing, or theater, but I think this show is for anybody. This doesn't feel like a niche kind of experience.
M: No, and it ought not to be. And San Francisco has great theaters, for now. I would definitely send my friends.
The Verdict: It's a really fun, if dated, show and this cast was a blast.
The Drinks: We had a flight of delicious rums at Kaya alongside some amazing Caribbean food.
Avenue Q plays through January 6th at NCTC  inside 25 Van Ness (just North of Market). Regular tickets start at $39 with group discounts and rush tickets available.