Well this is fucking unacceptable. Leo Nocentelli, guitarist for New Orleans funk pioneers the Meters, was allegedly subjected to some racist bullshit here in San Francisco last night: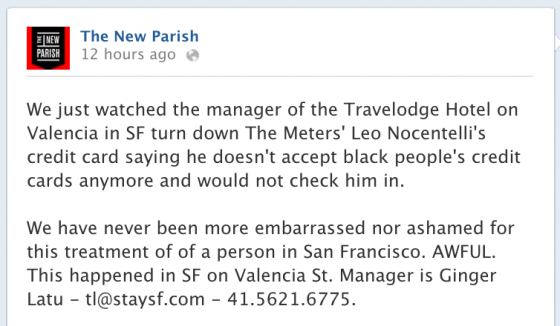 I guess something could be said about a musician of Leo's stature being put up in that notoriously sketch Travelodge (and having to pay for it himself) but still.
Some mixed reports of Travelodge's feeble attempts at damage control are already coming in on the thread:
There is an early post on this line from Deejay Platurnipus that say's "Just called. (Last night) They said Ginger isn't working tonight. Lying i assume? "Manager" on hand said she'll be there tomorrow, which I assume is also bullshit…." 
That contradicts the TraveLodge spokesperson that says not worked there in 6 months….
To be clear, it looks like Ginger isn't the staffer that did this (being a female when the report specifies a male), but the New Parish is encouraging folks direct all complaints to her as the branch manager.
The New Parish just weighed in with this update:
…we prepaid for the rooms and when artists arrived for check in, they demanded cash deposits from 3 of 4 band members. I called police and they forced the manager to give me contact name – "Ginger Latu" was the name on the card he gave me. Incredible.
More details as we find out.
Leo Nocentelli is gearing up to play two dates at Brick and Mortar tonight and tomorrow night.
[via the New Parish]