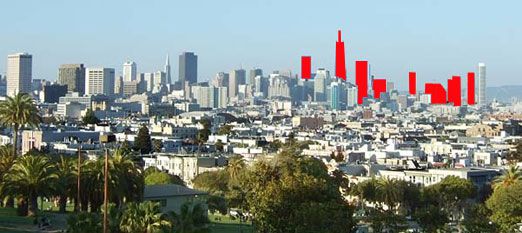 Over at Curbed SF, Andy Wang reports from the Transbay Terminal Plan Public Meeting:
The envisioned downtown skyline will be defined by a graceful "mound" consisting of a peak (Transbay Tower) and a gentle taper. High rise haters, take notice: friendly presenter Josh says they want to keep surrounding buildings about 200 feet away from each other — so as to avoid an overly dense clusterfuck of buildings.
Our favorite part was the above image, created by Curbed's Jimmy Stamp (click to enlarge). I'm no NIMBY, but who's bummed as me that we won't get to see the bridge at all anymore?