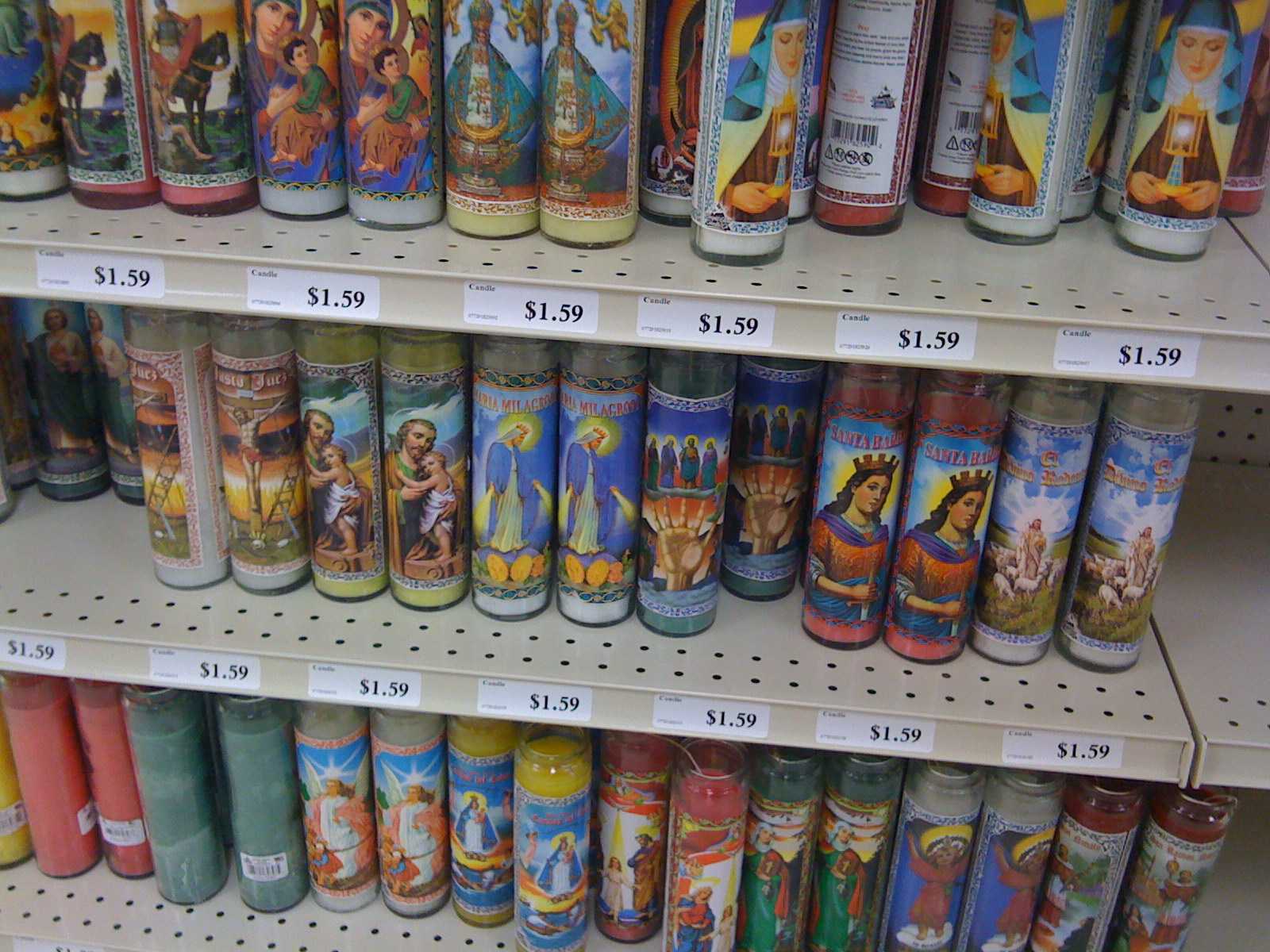 There's lots to be excited about. Our new friend Moka delivers a comprehensive report, beginning with the following handy table: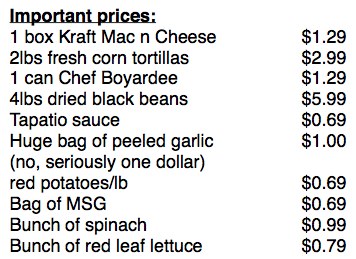 I have been waiting for weeks for this market to re-open. While it's not completely stocked, what they're offering at the moment is pretty damn spectacular.
You can see the fruit and veg aisle from outside and it won't disappoint you. The prices are reassuringly reasonable and there's a huge mix of choices. I got a little weepy in front of the coconuts, of which, you can get three different kinds. Lots of lemons and limes (which never seem to be easily located when someone brings over a bottle of vodka) and bins of loose corn kernels and beans.
The rest of Moka's findings and a big, pretty photo gallery after the jump:
The frozen food section blew my mind. Racks and racks of frozen meat balls! Frozen dumplings! Frozen squids! Frozen banana leaves! Frozen lychee bars! Frozen red bean paste! 900 types of frozen shrimps! Oh yeah and that ice cream stuff the ladies get so crazy for.
I am insanely excited about the cheap fresh noodles! I bought 4lbs for less than $5! The dried noodles are even cheaper. The meat selection is pretty comprehensive. Boneless skinless chicken breasts are $1.89/lb. There were seven different kinds of fresh shrimp. Not to mention that you can get your cow legs with or without skin. Make sure to check out the tubs of freshly gutted fish. The chicken feets looked clean and tender. There's a tank of swimming tilapia that you can ask the butcher to catch and prepare for you. I'm sure you get to pick the one you want.
In the milk/eggs/dairy section there's fresh tofu and prepared bags of fried tofu. Which would be awesome in soup with quail eggs, yep they've got quail eggs. Lots of quail eggs. Yeah yeah, there's cow milk and soy milk and yogurt and cheese and all that usual stuff. I spotted fresh loaves of bread and their sadder bagged cousins. The real win is the massive amounts of tortilla options. Oh the tortillas. You're covered if you like the Mexican snackies. Lots and lots of snackies.
There's a prepared food counter but the options looked pretty sparse. The main tubs were pinto beans and Spanish style rice. I'm sure the food rotating in and out will be a great bargain.
I spoke with one of the owners and their liquor license was definitely approved and they will officially offer booze in two weeks! When I asked about the sparse shelves she told me that they were, "excited about opening, maybe too soon!" It's well lit, clean and everyone is really friendly. I was asked multiple times if there was anything I needed or was looking for. The checkout line situation is a little confusing. You sorta make one line and then wait for a register to wave you over.
Sadly, there aren't a lot of drink options. Coffees, teas, and 2 liter bottle options though not many canned sodas or a lot of fresh juice. They did have six different brands of coconut juice.
It's the small things that matter. Like, being able to get toilet paper, dog food, nyquil, booze, and cheap dinner fixins all in the same place. Duc Loi, I'm glad you're back.
And orchids. They sell orchids.
Duc Loi
7am-8pm
Mission @ 18th