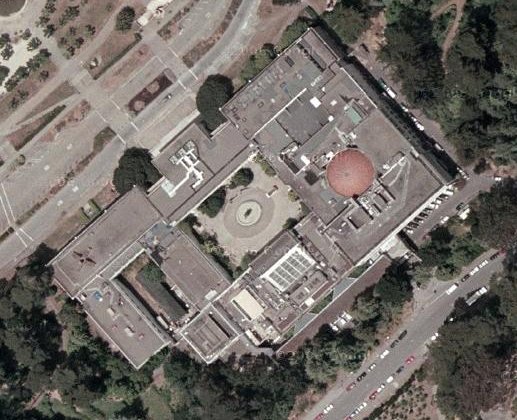 Remember this place? Everybody's all gaga about the new one, but I lament that youth of today, on their field trips, won't get to eat lunch with their buds in that central fountain courtyard.
I remember one of my classmates bought an Aerobie Orbiter at the gift shop, and we all watched in horror as he started flinging it right there in the courtyard. We were sure it'd be on the roof in seconds flat, but somehow it never happened. He managed several epic orbits before a security matron shut him down with a big "NO BOOMERANGS!" We went back to our carrots and juice.
On a later trip, I was a 7th grader, but somehow I'd managed to make friends with our class' 8th-grade T.A., and I ditched some dumb tour to hang out with her in the courtyard and talk about skateboarding and Primus. That was cool.
(I was cleaning up my desktop just now and found this screenshot I took a few years back.)
[Image by Google Maps]