It's no secret that we have a bit of a bag fetish here. And yes I mean those bags. Messenger bags. Yup, after a long day of hard riding there's nothing like having a big sweaty sack on your back.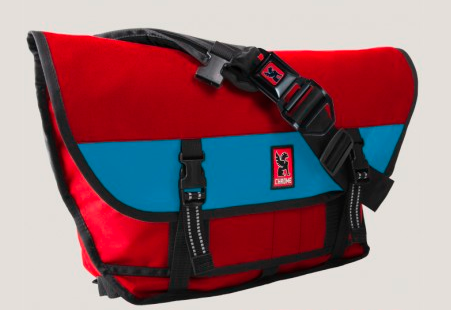 Chrome bags just launched a custom bag program at their flagship store in SOMA. This was formerly available only in the NYC store, but now Chrome's vastly superior hometown gets it. So if one of the selections in their current spread of pre-set color combinations isn't loud enough for you to adequately express yourself, then just go pick your own.
The way it works is you go in to their store on 4th and Brennan, talk to a "in-store live-sewing expert", and watch your custom bag take shape. I'm not sure what kinds of services this expert offers. It could be anything from "yeah, just pick from these 15 colors" to "oh nuh-uh, girl. That scheme does not go with your eyes." You're just going to have to go see for yourself.
Get the scoop on Chrome's other fine products at their website.
CONTEST
Don't worry, we haven't forgotten about you poor creative types who are still rocking that high-school Jansport with the broken zipper. Chrome has kindly offered a FREE custom Citizen bag to one lucky reader here. But as you know, we don't just give stuff away to anybody. You have to work for it, and this is gonna be a tough one.
In the spirit of color schemes, here are 5 mission color combinations that you might recognize. First commenter to name the locations of all 5 wins (leave a real email address, ok?). Guess as many times as you want. It's as simple as that. Get to it!
1. 

2. 

3. 

4. 

5. 

I'll supply hints in the comments if it turns out this is too much of a stumper.