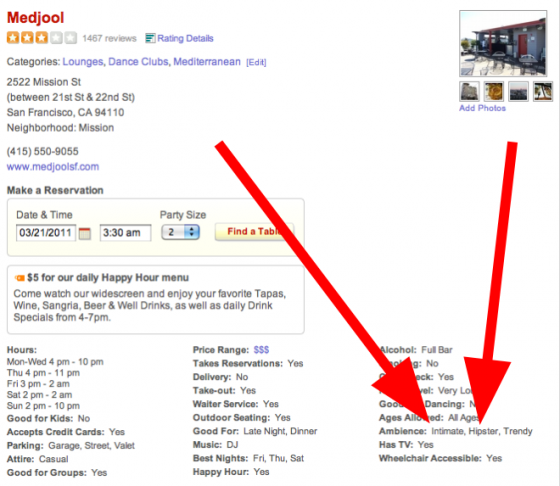 First of all, is Medjool intimate? I don't think it is. More importantly, I also don't think hipsters hang there very often.
Reader Wavvy Gravvy points out some other possible flaws in Yelp's new "Hipster" tag:
Spork, Beretta, Dalva, Zeitgeist, farm:table, Pop's, Ikes at Lime, Boogaloos, Medjool, Elbo Room, Red Door Cafe ARE ALL HIPSTER
Four Barrel, Ritual, Dynamo Donuts, Delirium, Bender's, Humphrey Slocombe, Tartine, Foreign Cinema, Delfina, Range, Amnesia, Revolution Cafe, The Summit ARE NOT HIPSTER
Hmm.
But seriously, we apologize for perpetuating all this "hipster" bullshit. Sometimes it just seems like a good idea.