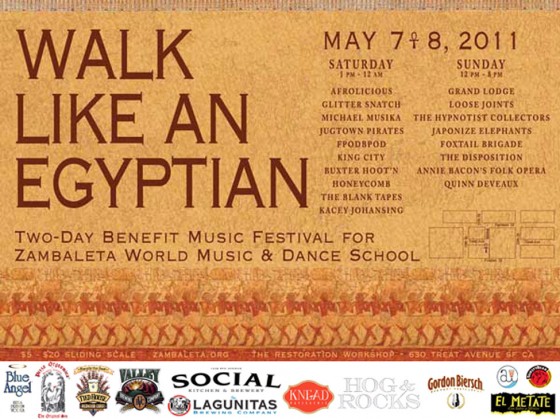 Our pals at Zambaleta music school are throwing a kick-ass benefit show this weekend, featuring about 20 bands including Foxtails Brigade, Quinn DeVeaux, the Blank Tapes, and Kacey Johansing. Have you heard Kacey's album? It's pretty damn incredible.  Also playing is Glittersnatch, a supertrio featuring the best folk-singin' babes in town: Megan Keely, Wolf Larsen, and Kelly McFarling. Listen as they harmonize prettily on their cover of Kids by MGMT:
The show is at
the Restoration Workshop
on 19th and Treat, which is actually a working restoration workshop that doubles as a great place for shows.
If you can't afford the $5-$20 sliding scale cover, you can also volunteer at the show and score some free class credit at Zambaleta while you're at it. Read on for the details.
Every 2 hours of volunteering = 1 hour music class + 1 pound of good music karma.

And we have plenty of shifts so you can volunteer your heart out. If you are interested, shoot us an email at volunteer@zambaleta.org with 2 or 3 areas of your choice:

1. Fundraising & Sponsors – help approach sponsors and get donations before event and follow up with donors during and after event
2. Setup & Tear down – set up the space on Friday afternoon and tear down on Sunday evening. You get double credit if you tear down (that's 2 pounds of good music karma and many more free classes)
3. Pickups – pick up donations and supplies week prior and during festival, drop off after festival. You need a car and some muscles. We will pay gas and you get double credit for being awesome.
4. Decoration & Signs – help with decoration from now to festival time
5. Door – collect cash and socialize (4 hour shifts on Saturday from 10am to midnight and Sunday from 11am to 8pm)
6. Stage & Sound – manage stage, help with sound needs (4 hour shifts on Saturday from 10am to 1am and Sunday from 11am to 9pm)
7. Food – set up and maintain food stations. Prepare and sell food (4 hour shifts on Saturday from 10am to midnight and Sunday from 11am to 9pm)
8. Bar – make and sell them drinks (4 hour shifts on Saturday from 10am to midnight and Sunday from 11am to 9pm)
9. Publicity & Promotion – reach out to media before event and take care of media during event; post posters and distribute flyers (whenever)