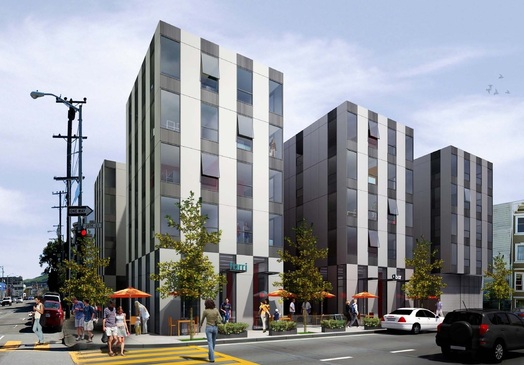 Reader J9 sends us this:
These weird developer people came by my apartment today telling me that were going to build a bunch of gross loft condos down the street from my apartment at 15th street and S. van ness.

Take a look here:http://www.1501-15thstreet.com/

These condos don't even look inhabitable- the buildings look like weird Darth Vader office buildings.
In case you're a part of the Rebel Alliance, there's a meeting tonight where you can discuss your concerns with the lack of neo-Victorian detailing in these chic living obelisks. Maybe you can glance at the plans and locate an unshielded thermal exhaust port:
Come to the 1501 15th Street Neighborhood Meeting on Wednesday, July 6th, 2011. The meeting will be held in Annunciation Cathedral at 245 Valencia Street @ 14th Street.
The Empire appears to be trying to evade dissent by not posting an actual start time, but rest assured, we have a contacted them and will update with the relevant info when we get it.
Update: Meeting starts at 6pm