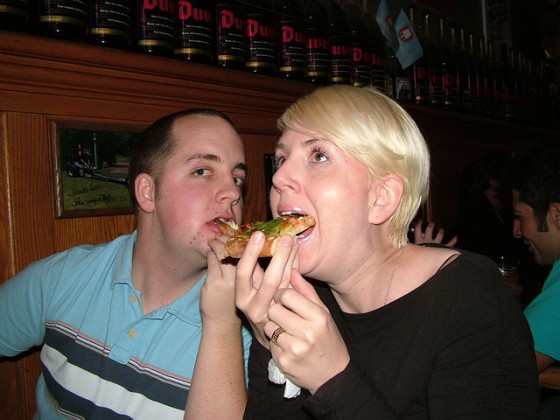 According to local bartender Rachel, the author of Mission Drinking Rules, a recent feature from Night Fog Reader, one should never eat in bars:
Why are you bringing your burrito/BBQ/whatever stinky food you got and think its OK to scarf that down in a bar? I've seen this for years and it will never stop. You stink up the bar, you smell like what you just ate, and you are thatperson. I would never ever ever ever eat at a bar, and I work at one! I would rather go eat outside than sit at a bar and look like a dumpy eating a burrito by myself.
I mean, I wouldn't try to eat a burrito at Beauty Bar on a Saturday night, but, "never ever ever ever" seems like a bit much. For instance, sometimes you need a nice cool veggie sandwich to compete with the intense heat of, say, a chilaquile bloody mary (which is my plan for about 20 minutes from now), and sometimes it's fun getting a pizza delivered at 1:45 so you have something in your belly to soak up all that whiskey and pickle juice you ordered at last call. And I love eating outside too, but sometimes the weather in San Francisco is not so good for something like that. Right? Maybe not.