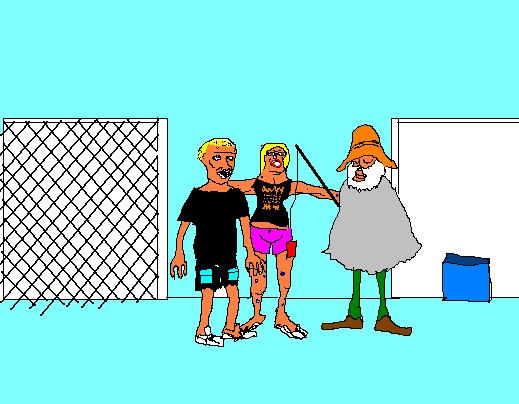 Ever been to Hayes Valley? Then maybe you know these characters, described here by local urban anthropologist (and illustrator) David Enos:
[T]he one in the poncho "fishes" for change using a cup attached to a stick.  When he's away from the office, (presumably not gone fishing) he weaves the stick and cup through the criss-crosses of the cyclone fencing for safe keeping.  They are horndogs.  I heard them once talking about how hot Red Sonja, Brigitte Neilsen, was.  "Red Sonja…man oh man…MAMA!  Red Sonja…hot as fuck…" Somehow, they have attracted a woman who hangs out with them.
Read on for talk of asses and corncobs.