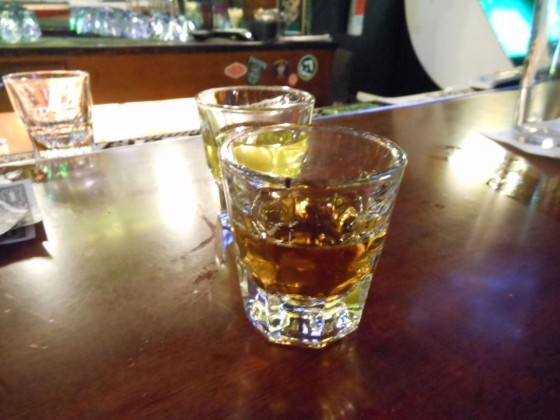 As mentioned before, Stuart has been holding down a Wednesday evening bar tending shift at Dear Mom. To make things a little more interesting, starting tonight, he's making picklebacks:
The Pickle Back is a shot of whiskey with a shot of pickle juice as a chaser.  I know at first it sounds gross, but really, it's amazing!  The pickle brine cuts right through the whiskey making even the most rotgut stuff totally tolerable.  But I'm not feeding you that rotgut shit; we're doing Dickle with the Pickle Back.  And it's even fancy pickle juice.  I'm getting the stuff  from the fine gentlemen ofWise Sons, who are already famous for the food truck and will be even more so when their new deli opens up on 24th St.
Stuart also implies that he's the first to bring this concept to SF, but that's erroneous because I've had many picklebacks at Mission Hill Saloon, and a few at Beauty Bar. But Stu's are made with care and are still only $4, so who gives a shit? Let's get drunk!