[This is the debut of our new veganism correspondent, Caroline. She's good fun and writes a blog called OVOO (One Vegan, One Omnivore) about how she's a vegan and her husband Reese is an omnivore but they love each other anyway.]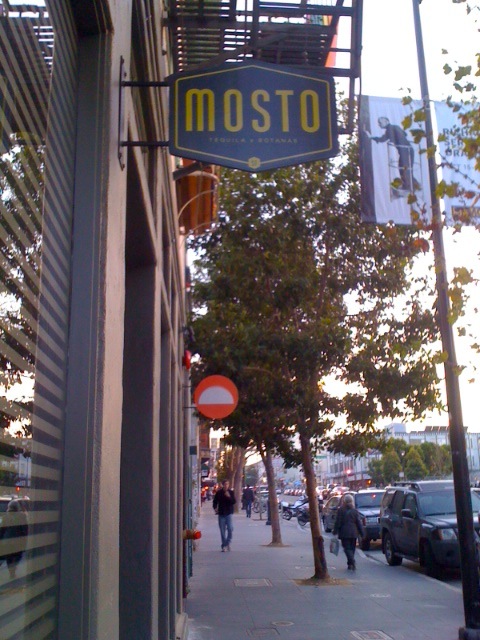 As my first contribution to Mission Mission, I bring you this review of a new neighborhood eatery! Announcements of its imminent approach were made here in the past, but I thought I'd go check it out for all y'all.
Tacolicious is not a taqueria, of course, but it is a restaurant that serves fancyish California-style Mexican food. My ol' man and I got there on Friday evning around 6:30 and were told by the cute hostess that there was a half-hour wait, and we could wait at the attached tequila bar, Mosto. NBD.
Drinks at Mosto:
The bar was packed—yes, with people who look like they work for and shop exclusively at Banana Republic—but the bartenders were nice and let us hang out by their station. They didn't even make us move when they went in and out of the bar—they ducked under it. Just for contrast, see if you can picture the bartenders at Zeitgeist doing this. (I can't either. Not that I don't love the surly barkeeps at ZG.)
I had a glass of red wine on tap, while the man went with a michelada.
Micheladas are rad, and since Mosto makes theirs with tomato juice (not Clamato—gross!), Tecate, Tapatio, lime juice, and this weird Latin wheat gluten sauce (not Worstershire), they are totally vegan (yay!).
Guess what they charged for the above-described concoction. Guess.
$9.
The drinks on the Tacolicious menu are cheaper, so if paying $13 for a glass of wine (yep) or $9 for a michelada annoys you, stick with the $3 Tecates while you're waiting and then upgrade at dinner.
Dinner at Tacolicious:
Our waitress was nice and was knowledgeable about which menu items were vegan and which weren't. This was reassuring, since I'm often in the position of needing to ask taquerias to hold the butter on my veggie burrito. (I'm looking at you, Buen Sabor!) We started with chips (okay), salsa (minty!) and guac (fluffy!). They had a $3.95 vegan taco on the menu—butternut squash with swiss chard and onions—so I got that. I also had a side of Rancho Gordo beans, which I love. With the tacos, we got 3 more kinds of salsa to try: mild, medium, and spicy. The medium, chipotle-based one was my favorite; it had that smoky taste that we vegans go crazy for.
The main problem with the food: Not. Enough. Salt. And there were no salt shakers on the table. Why? why? (And no Tapatio orCholula, btw.)
The verdict?
Go if you want Mexican-esque food and are entertaining a valentine or fancy visitor, like a well-off aunt, especially if he/ she lives in the Marina or Orange County or something. What you lose in street cred by patronizing this establishment you can regain by discussing the inconsistencies in the perspective of the admittedly-pretty mural of the park.
Don't go if you love salt or are a taqueria purist.
See you next week!