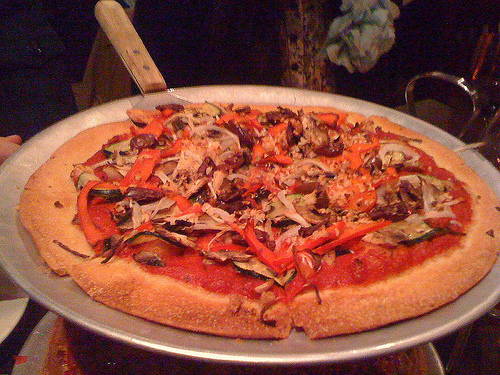 I was all excited to review Ken Ken Ramen for all you nice people but last night when my friends and I arrived at their doorstep, we found, much to our surprise, that the restaurant was closed. Apparently it's only open Thursday through Saturday each week at the moment, though they have plans to open for business on Wednesdays soon as well.
What made this particularly maddening was that a) I was so hungry I was almost hallucinating, and b) there were people in there eating pizza, taunting us. Oh, the pain! the suffering!
We decided to take a cue from the Ken Ken employees and get some pizza for ourselves, scooting over to Little Star as fast as our soggy, wet feet would carry us.
Hey Little Star! You know what you could do that would make me soooo happy? If you could give us vegans the opportunity to partake in your famous deep dish pizza! As I understand it, the only thing that makes the deep dish non-vegan-friendly is that they grease the deep dish pans with butter. Why they can't set aside a few to grease with olive oil each night boggles my mind, and every time I go, I always ask them to confirm that this is still non-negotiable. It still is. As they say in Italy, il sigh.
The flat crust is still good though! Lots of flavor from the sweet sauce, roasted garlic, and kalamata olives. See?